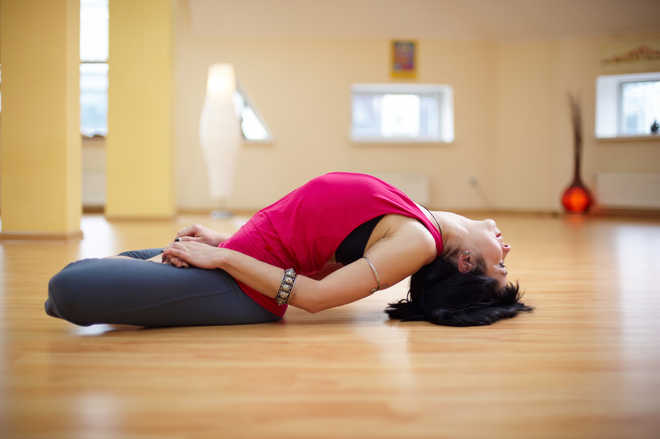 Blurb: Daily yoga enhances the blood supply to the teeth and gums as a result of which teeth become healthy and strong
Nowadays, it is a hugely recognized fact that tooth disease is an attribute of modern civilization. In today's time, people go for processed foods, cereals, synthetic flavours etc which are not chewed properly by them, leading to a viscous chain of events like dental caries, receding and red spongy gums, toothache, pyorrhea etc.
Yoga, on the other hand, is known to prolong the beauty of one's physical and mental self, by providing us with a guide on how to live a healthy life by utilising nature's gifts. This holds true for dental diseases as well. Daily yoga enhances the blood supply to the teeth and gums as a result of which teeth become healthy and strong. The strength of our teeth is directly related to the strength of our bones. The organ responsible for stimulating the growth of bones is the pituitary gland. So any posture or asana like sirshasana, which will stimulate more blood to this gland will increase the strength of bones and teeth.
Breathing exercise
Sitkari (teeth hissing) is a very common yogic exercise in which a sound is made by drawing air in through the front teeth (either tightly closed or opened) and the tongue tip regulates the air pressure and the sound. It is an excellent remedy for mouth ulcers. We also have several asanas like matsyasana, sarvangasana, ardhamatsyendrasana, paschimottanasana, siddhasana that aid in treating pyorrhea. Another very common practice is where one pounds his upper teeth on the lower ones approximate 30 times and this is followed by massaging the entire gums with saliva coated tongue. This also imparts a great health to our teeth and gums.
In a nutshell, practicing yoga on daily basis will reduce your stress or anxiety, which is the major contributing factor that leads to neglected dental health by people, xerostomia or dry mouth. Stressed out people also usually end up clenching or grinding their teeth more. Hence, this is where yoga helps them by relaxing them. Poor posture, another very common habit nowadays, can lead to forward positioning of lower jaw, malalignment of teeth further leading to TMJ disorders (pain in face, bruxism etc).Yoga helps one to improve one's posture, by relieving the strain from one's jaw. Moreover, yoga exercises counteract the substances producing inflammation, that can lead to gum diseases like bleeding gums, halitosis (bad breath) and pyorrhea. Hence practice yoga daily to have excellent dental.
(Dr Gunita Singh is a Ludhiana-based dental expert)
— As told to Poonam Bindra