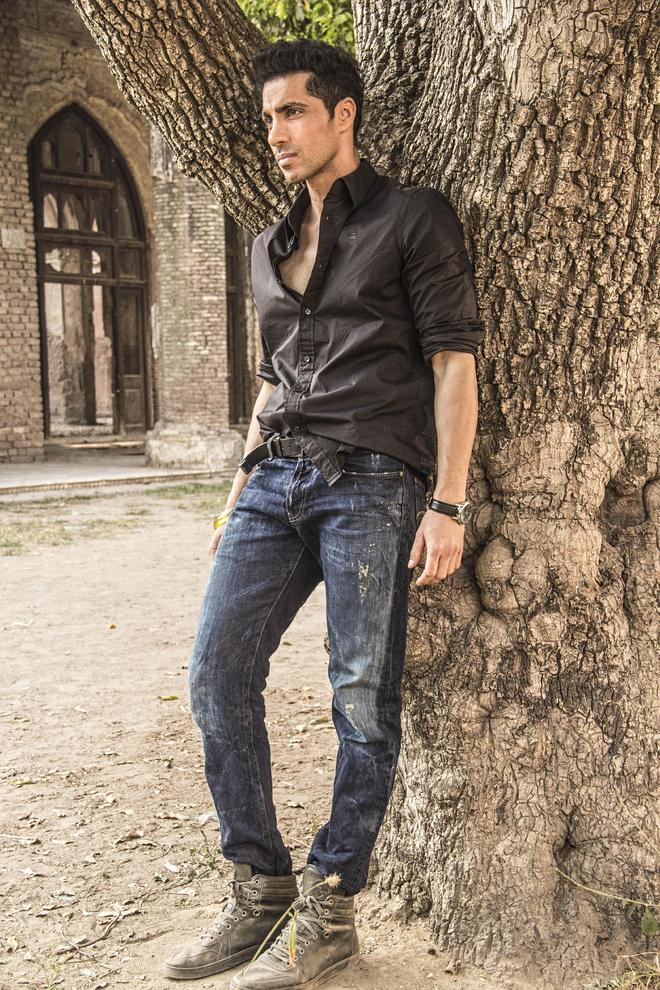 Jasmine Singh
Deep set eyes, a fine jaw line, hoarseness in voice, he listens silently to everything that is being said to him. For a spilt second, you feel you have lost him. As if evoking energy from an unknown source, actor Deep Sidhu comes back to the present. And now, there is no stopping him as the actor opens his case file, free for everyone to take a good look at.
Deep made his debut in the Punjabi film Ramta Jogi directed by Guddu Dhanoa is a lawyer by profession having used his legal expertise for director Sanjay Leela Bhansali, Vijeyta production House and many A list actors of Bollywood. Well, with everything going for him, one wonders what would have made this young actor to apply in Punjabi film industry. Deep shares a strong bond and connection with the Deol family, "Both Sunny and Bobby are very supportive. Of course, they are always there for me when I need them, always giving the right advice," shares Deep who still has to come to the point on what brings a lawyer to the film sets!
"I am and was as child also enamoured by the entire filmy world. Punjabi cinema at this point is doing extremely well, since I am a Punjabi I wanted to give it a shot, bring myself in front of the camera." Deep pauses, looking intently at the hot cup of tea, lying on the table. He takes a sip, "It's really good," Deep says with some intensity. The same intensity with which he acted in the film Ramta Jogi that couldn't create ripples at the box office.
He goes in for another sip, "There is something called disillusionment, no matter how rosy a painting is the real colours come out pretty soon. Well, I gave my best shot to the film, knowing the director was Guddu Dhanoa. Sadly, things didn't pan out the way they should have or the way they were told to me," Deep jumps into the reality of an unreal world. Ramta Jogi was widely promoted by the team and Bobby Deol in tow, but, "It is sad it didn't do well," he repeats gulping down the reality with every sip of tea he takes.
The disillusionment however hasn't faded for Deep Sidhu who is already reading into a couple of Punjabi film scripts. "I don't know why a non-Punjabi singer doesn't get acceptance in the films. The more I meet people here; I see how they (people from the Punjabi industry) are ready to gnaw at you. Also, it is not only in Bollywood, the lobbies exist and thrive in Punjabi industry as well, which is a sad thing."
Trying to sieve the real out of the fake, Deep still wants to move ahead. "I am sure there are many professional people in the industry as well," adds the actor who was appreciated for his action in Ramta Jogi. "I am going to Serbia to learn action. I open to all kinds of role, all the same, I would want to play something that suits my image and action fits in well." He has received offer for some art kind of Punjabi films as well. "I am still reading scripts, meeting writers, let's see what next." Deep takes one last look at the empty glass. "If the glass looks empty right now, it is because it is empty." Deep hasn't passed any verdict, he is only given his 'real case' another hearing. "I'm still on trial," he smiles reminding us of Bobby Deol's control freak smile!
jasmine@tribunemail.com
Top News
Jhunjhunwala, Big Bull of Dalal Street, passed away in Mumba...
If Jhunjhunwala would have had a regret, it was not seeing t...
Incident took place in Qaimoh area of south Kashmir district...
Dr Avnish has been given temporary charge till a regular inc...
Tiranga Yatra is being taken out across the country to mark ...