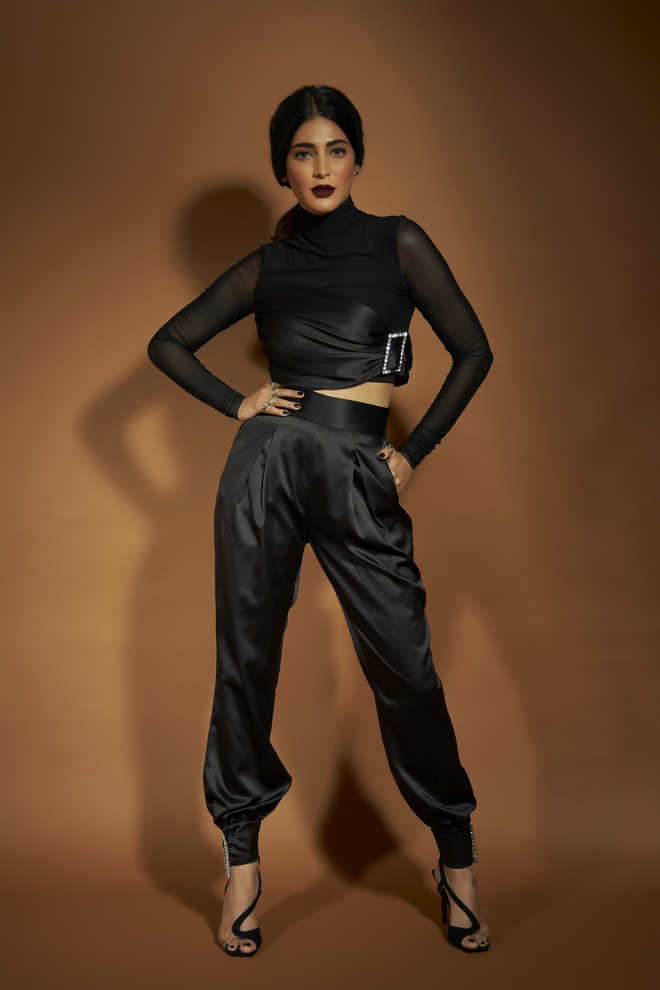 Sheetal
Shruti Haasan once called herself a 'dark horse in a long race whose time is yet to come'. What she said then makes it easy for us to describe the powerhouse of talent she has become over the past six years. Not only her acting but her singing leaves the audience spellbound. And now, yet another feather in her cap—she is a part of American television series, titled Treadstone, which is a spin-off of the movie, Jason Bourne.
About her love for music and acting, Shruti says, "I am unable to choose one over the other and why should I? A mother cannot pick one child that she loves the most from the rest." Shruti's connection to music has been strong since her childhood. She says, "I used to listen to Beatles and other Rock bands. I was the lead vocalist for the band called, The Extramentals."
Ask her how is music different here in India from the UK where she has performed, she quips, "The language of music is pretty much universal. Wherever you go, audiences may be different in a certain way but the reception of music is the same. The Indian audience is more open to experimenting than the British audience. It was interesting to perform there as nobody knew me which made the experience quite different."
On her dream roles or collaboration in music, Shruti quips, "I am open to work in all kind of genres but at the same time, I never believed in making a list of things that I would love to do. Having worked for almost 10 years now, I do not think making a list of roles or kind of songs get you anywhere." Shruti plays Nira Patel, an assassin in Treadstone, which is already released in US and is slated for Amazon Prime Video India release soon. While she confirms her guest appearance in four episodes, she refuses to clear the air about her role.
For all those, who attach the star kid tag to her name, Shruti has a befitting reply, "I am a 32-year-old strong, opinionated and independent woman and I think I am past that age and stage of my career where my parents' success as actors would pose any pressure."
Last seen in Behen Hogi Teri in 2017, Shruti is expected to make her comeback in Bollywood with Mahesh Manjrekar's Power, alongside Vidyut Jamwal. In the pipeline, the actress has a Tamil film, Laabam, in which Shruti will play a fun girl, head strong and at the same time emotional.
Shruti is binge-watching Peaky Blinders fifth season these days and recommends fleabag to her fans, "It perfectly sums up the emotions and feelings of a woman and how she perceive different things as the woman is directly in conversation with viewers."
On the personal front, she says, "I have no plans to 'settle down' as yet. For me, the word means settling for something less. I am enjoying my work and travelling. I have been lucky to have found love several times but I think the idea of love changes with time. It will happen when it has to happen."
Animal instinct
Shruti Hassan's Instagram account is filled with adorable pictures of her rescued cats—Cora and Clara. "I am an animal person, not a dog or cat person. I love them all," says Shruti.
No Diwali plans for this diva
She has no plans for Diwali. She says, "I have never been crazy about festivals. I will stay cooped up in my house with my cats, saving them from the loud noises from the firecrackers."
sheetal.dadhwal@tribunemail.com