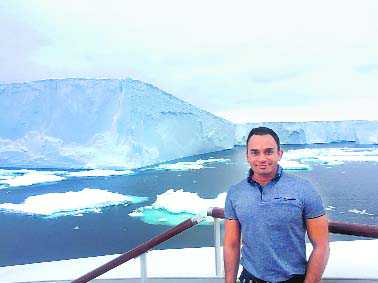 Travel is not just about visiting a place; it's about exploring different parts of the world and living through an experience, which makes for a great story.
The Q Experiences, an Indian luxury travel company, today announced an exclusive for 200 people only, including those from Tricity, an 11 day trip to the most exotic, unique and ice crowned continent— Antarctica, also rightly known as The White Continent. Starting off from Ushuaia, the capital of Tierra del Fuego, Argentina, and the southernmost city in the world— on the 9th of December 2017 – the 11-day trip promises to create an experience of a lifetime and will take the 200 travelers across the temperamental Drake Passage and into the Land of Ice. Watch the mysterious stories unfold at www.thewhitecontinent.com
Travellers will be cruising through some of the most breathtaking glaciers of Neko Bay and Paradise Bay, anchoring at Port Lockroy, finally sailing to the largest colony of Chinstrap Penguins at Deception Island and visit the quietest place on earth- the majestic Weddell Sea , and at every step of the way, there would be experts to guide the travelers and show the sights one had only dreamt of.
Shares Vasim Shaikh, founder of The Q Experiences, "At The Q, we are storytellers, where we weave a cumulative story of experiences that would make the best memory for our traveller. Curated Journeys are constant endeavor at The Q. With the launch of 'The White Continent', we aspire to take luxury travel to unsurpassed heights and focus on rare destinations that Indians are yet to explore".
To ensure a superior gastronomic experience to the travellers, Atul Kochhar, Indian Michelin-starred chef will be on board curating the finest of Indian regional cuisine. In addition, the team of a catering centre of excellence run by Alain Ducasse Enterprise will also be on board to enhance the global cuisine. Buffets each day will be of a different theme. — TNS
Top News
Says unprecedented assault on corruption has angered those w...
As part of the special drive, the regulators have identified...
Behind him, Papalpreet Singh, who is said to be his mentor, ...
Punjab CM accuses Jathedar of favouring the Badals; Giani Ha...
7 others, including Ahmed's brother Khalid Azim alias Ashraf...