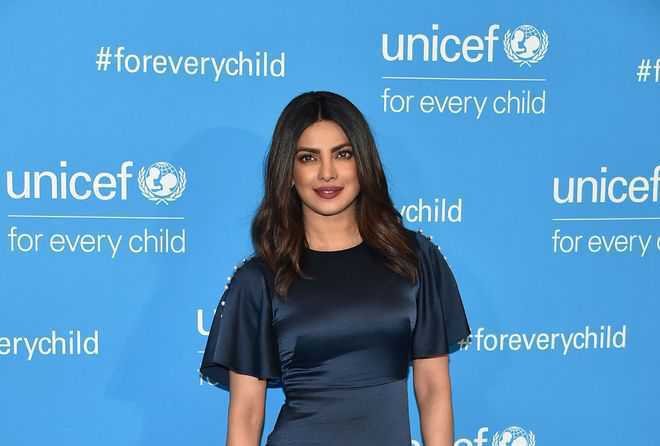 Mona
Standing for India, and for world peace, the former Miss World and 'globally' famous 'desi' girl, Priyanka Chopra, had her stand vindicated on Friday!
The actor, singer, producer was in the eye of the storm since the Beautycon event at Los Angeles as a Pakistani woman called out on her on February tweet 'Jai Hind #IndianArmedForces' with an emoji of tricolour and folded hands. While online petitions gathered steam demanding Priyanka Chopra's ouster from her role of a UNICEF Goodwill Ambassador, more recently Pakistan's Human Rights Minister demanded the same, accusing her of "jingoism" for the Indian armed forces. The issue came to a close with Stephane Dujarric, the spokesperson for Secretary-General Antonio Guterres, while answering a question about Chopra, stating, "When UNICEF Goodwill Ambassadors speak in their personal capacity, they retain the right to speak about issues that interest or concern them."
Dignity & grace
While at Los Angeles event, Priyanka conducted herself with utmost dignity and grace claiming 'war is not something that I am really fond of, but I am patriotic'; Indian film industry rallied in her support. Celebs are the first ones to be asked about any issue and more often than not, their statements are twisted or blown out of proportion. "Priyanka is not superficial; she is a woman who knows her roles and responsibilities, a true ambassador of the UN and her own country," says the National Award-winning actress Divya Dutta.
"Army walyeyan di kudi hai (she is daughter of the Army family)," says singer Shankar Sahney. "Those questioning her role as a UN ambassador need to be told that if a person isn't true to one's country how could he or she stand for any cause that they are representing?" He adds,"Jo apni mitti da ni hoya, oo kisi kursi te baithan jog hi ni hai (someone who is not true to one's own land is not worthy to represent a cause)."
Waste of time
"With the UN itself coming clear on the entire episode, I think it's a non-issue," says filmmaker Piyush Jha. He feels with the world dealing with other pressing concerns, the issue that garnered debate after a Pakistani woman hackled Priyanka over her tweet, too much time and energy has already been wasted. "For any one, goodwill ambassador or not, support for their country is a given, just like it is for Priyanka," says Jha, pointing out that it's about time to check the records of the goodwill ambassadors from Pakistan and if they have not stood by their nations.
Before the UN clarified its stand, lyricist Javed Akhtar was vocal to have said that if Priyanka's "comments have upset the Pakistani establishment, they can do whatever they wish".
Good representative
Actor Ayushmann Khurrana says, "I guess Priyanka Chopra represents our country really well and she is not just an Indian icon, but a global icon. Being a daughter of an Army officer, I believe she is truly a very good representative of India."
Priyanka also found support in fellow leading actress Kangana Ranaut, who states, "It's not an easy choice to make... when you are stuck between your duty and your emotions, being a UNICEF goodwill ambassador sure you can't limit your identity to one nation, but how many of us choose heart over mind every day."