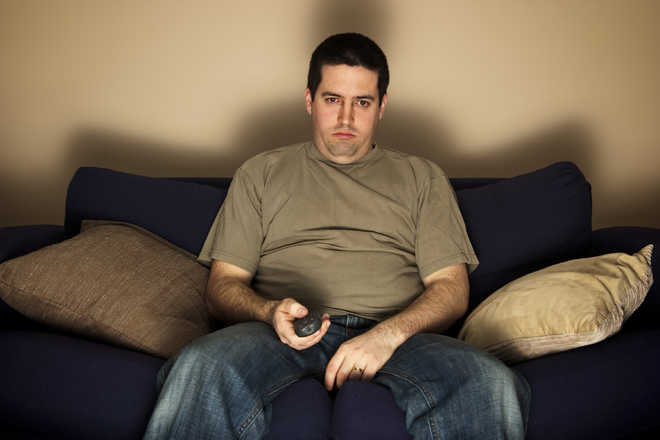 On-demand services like Netflix and Amazon Prime Video are leaving no stone unturned to increase their Indian subscriber base. Their library of movies and shows forces you to binge-watch. So do TV channels with their marathons, but don't let watching shows or movies back-to-back be the reason for your expanding waistline, warn experts.
Excessive screen time is a concern across the world, says Ramen Goel, Senior Bariatric Surgeon and Director, Center of Bariatric and Metabolic Surgery, Wockhardt Hospitals.
"There are multiple associated health issues with people, especially the younger generation constantly glued to the phone, monitors or TV. It restricts the time for physical activities which are essential for not only physical health but also social health, camaraderie and team-building," Goel said.
Binge-viewing has affected all age groups. From children glued to their cartoon channels to housewives and elderly people watching their unending soaps, binge-watching has become common, feels Swapnil Jain, Endocrinologist, Columbia Asia Hospital, Gurugram.
"Since almost all of the available time is being consumed in front of the screens, the only muscles getting exercise are probably the eyeballs. So, the mismatch of excessive calorie intake and binge-viewing is severely affecting the body metabolism leading to obesity," added Jain.
The problem doesn't end with obesity.
"Once they get obesity, they develop diabetes, heart and kidney problems much earlier in their lives. Technology also interferes with sleep," said Manjunath Malige, Endocrinologist and Diabetologist, Fortis Hospital, Bengaluru. Sharing a case study, Malige said once a 14-year-old boy became so obese that now he has pre-diabetes. "The kid was addicted to gadgets. So, he was not involved in any physical activities," said Malige.
Goel added: "Excessive screen time is believed to distract a person from the realities of life and many live in a make-believe world created by movie producers and game developers.
"It is believed to restrict time for family moments which is likely to result in stressed and disjointed families." So what can be done to break the habit?
"Go for a walk or do things that you like doing such as cooking. Spend time with your family or friends. Make sure you do not eat while binge-watching," said Goel.
As for the younger lot, parents have to play an important role in helping their children get rid of their habit.
But that doesn't mean you force a new sport or activity on your child.
"Instead, let the child pick the kind of physical activity it likes. Block off the fitness time and make sure all other distractions like phones and tablets are put away. This message should also come from the school — they should have more and more sports activities for kids," he said. — IANS
Top News
Was speaking to Indian journalists in Washington
This comes amid a diplomatic row between India and Canada ov...
Granthi Giani Jaswinder Singh from Pine Hill Gurdwara in New...
Heavy security deployed to deal with the situation
Family say all 3 accused knew Hrithik and that there were no...