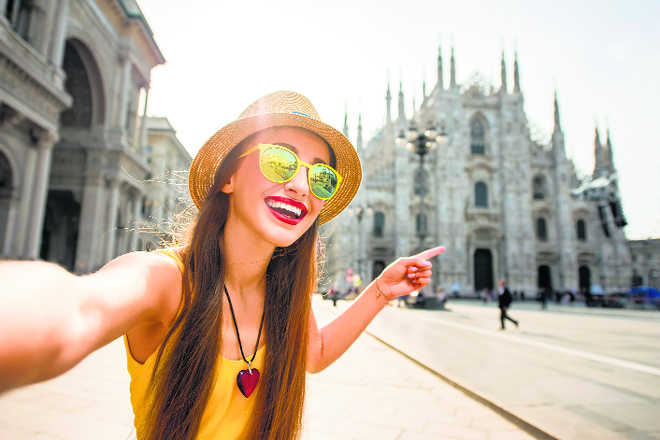 Mona
What would you do live? Well, for the uninitiated, those caught by the social bug share their routine, shopping, travel plans, ask opinions (whether to buy a red shoe or orange) and in general anything and everything under the sun!
While megastar Amitabh Bachchan sending his fans into frenzy a few weeks, you must remember that this Facebook feature is no more privy to celebs alone — the common man can make the most of it too. Tricity boasts of its own 'social' people and some of them share what makes them hit the live button.
Instant connect
For model Shubham Sharma, going live is the instant connect with his fans. This 27-year-old hunk often goes live taking along his Facebook friends to whichever part of the world he is shooting in. His live feed from Dubai got maximum likes and comments, and his gym clips have many takers too. "I am constantly inundated with requests to share diet and exercise tips, and I am more than happy to do the same," says the chap, who also believes that live feed dispels any myths about models' pictures being air-brushed or being photo-shopped as everyone can see in real time.
Ramp time
Proud of her students who presented their collection at Fashion Scout at London Fashion Week recently, INIFD Centre Head, Chandigarh, Nimisha Gupta, went live as the models strutted down in their sky-high stilettos, taking along students and their families who wanted to be the part of the prestigious moment. "Seeing recorded feed is nowhere a match to live feed, as all can join in virtually," says Nimisha, a photography freaks who finds going live an awesome Facebook tool to connect and celebrate!
Music to the ear
For Sarika Tiwari, a music teacher from Panchkula, it's a way to share her passion with her extended circle of friends and her husband, who, just like her, enjoys karaoke and often joins her for a live singing session! "We both love music and there is nothing better than a live session when friends and family join in; Facebook serves as a beautiful platform," shares Sarika, who swears that the instant spark of 'live' is missing in recorded sessions. "One cannot always invite people over for impromptu karaoke sessions; live works just well."
No singer or model, a regular homemaker, Suvaina, loves to share her routine and travel plans with her huge family through live feeds. "An experience shared with your loved ones multiplies manifold, so why not!" she says. Well, are you going live?
Just for the laughs
Tricity-based director Ojaswwee Sharma's film JSLive explores the 'live' process. Stemmed from personal experience of seeing people going live at the flimsiest of pretexts, this 10-minute 'senseless comedy' has garnered over one lakh views! "If someone like Harbhajan Mann goes live sharing details of his latest album it makes sense, but common people posting what they had for lunch is a staple source of annoyance in today's world," says the director, who came out with the film earlier this year when Facebook's newly introduced feature was a frenzy with all. Currently in the process of shooting a JSLive 2, Ojaswwee thinks that 'live' space has become a platform to showcase talent today. The second instalment of the film offers a bigger dose of entertainment, as the protagonist Jagdeep Singh tries taking the singing route to be 'famous'. Known for serious content with four of his short films this year – Loneliness, Zubaan, The Last date and Dichotomy of Hope – JSLive is the odd one out from this director's stable, but giving people something to laugh about is what made him go for the rib-tickling second part.
mona@tribunemail.com