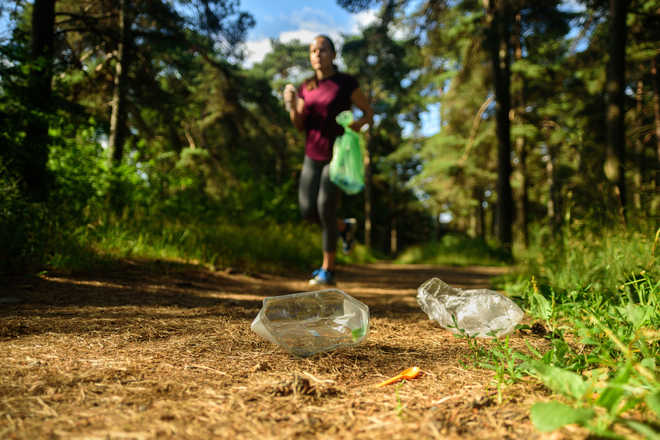 Gurnaaz Kaur
If PM Narendra Modi can take out time from his informal summit with Chinese President Xi Jingping to go 'plogging' on Mamallapuram beach, then it's natural for the likes of you and me to get inspired. A three-minute video showed Modi, dressed in a t-shirt and black lower, picking up plastic trash littered at the beach as he walked around barefoot. Needless to say, the video went viral and netizens praised him.
Tweet trail
Bollywood celebrities including Akshay Kumar and Karan Johar, hailed him as someone who leads by example. Akshay Kumar tweeted: "Hon. Prime Minister @narendramodi ji, the best leaders are those who lead with an example!" Karan Johar hailed him too: "This is the perfect communication Honourable Prime Minister sir! @narendramodi your initiative will ensure we have accountability... A Clean India! A Fit India! That's the mantra!" Vivek Oberoi pointed out that we must include plogging in our routine. "A true leader always leads by example. Hats off to you @PMOIndia... Jai Hind."
Just a show?
On the other hand, many said the PM was putting up a show; while some questioned how the vicinity was dirty when a foreign delegation was visiting, others criticised the garbage bag that Modi was holding. One Twitter user wrote, "So Modi ji was plogging on the beach with what looks like a single-use plastic bag."
Beautiful idea
Says Bollywood actress Flora Saini, whose performance as a ghost in Stree was applauded, "I was not aware of plogging till I saw this video. After that I read about it and what a beautiful idea it is." The actress feels many learn by our PM's example.
Singer-songwriter Anurag Mishra, who knew about plogging didn't put it to use that often. "Honestly, I didn't apply it much in my daily life, but when I trek I carry a bag to collect the waste as an initiative to keep the mountains clean. After this video, I feel this is completely doable in normal life too."
Great gesture
For those who think it was just a show, TV actor and anchor Gitikka Ganju Dhar says, "How often do you see the Prime Minister of a country cleaning a public place? Even if this was a symbolic gesture, it was worth it and the trickle-down effect will happen." As for her, she picks up litter all the time from her society compound, streets, beaches and even while holidaying in the hills!
For a wholesome workout, along with running, let your body bend, stretch, squat and lunge. In the process, you will not only achieve fitness goals, but also make it a clean India. Happy plogging!
gurnaaz@tribunemail.com
---
Making city more beautiful
St Kabir Public School, Chandigarh, took a cue from PM Modi's plogging activity and organised Swacchata Hi Sewa Plog-Athon to spread the message of cleanliness.
Over 300 students of Classes IX and XII, including the Naval Unit Girls Wing and NCC Boys wing, took part in the event. The students along with the principal Lt Col Rattanbir Singh as well as staff members, after cleaning the Sukhna Lake area, walked through Sarovar Path to reach the school, plogging the whole area!
What's demeaning?
There is a misconception in India that garbage collection is a task that is demeaning. I always wondered why we have no problem littering, but have a huge problem clearing up? My film sets have a 'no plastic bottle' rule. Also, I believe in leaving a place that I film in or even frequent for recreation in a better state than what I find it in. Now I don't want to give that act some fancy term like 'plogging', but prefer to see it as us merely doing our duty as responsible citizens.
— Pooja Bhatt, actress