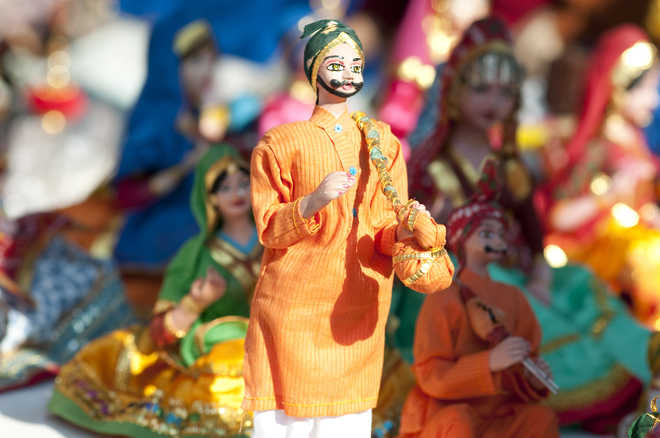 Amarjot Kaur
As reflected at the fifth edition of four-day International Puppet Festival at Tagore Theatre four months ago on February 3, the fate of puppetry (at least in Chandigarh) hangs on the string of hope. Despite the UT Administration waiving a 30 per cent entertainment tax on tickets at the theatre, last year, reportedly with a view to promote local theatre groups, the festival featured performances by Kuchh Kuchh Theatre from Delhi, among other theatre groups from Indonesia, Palestine, and Taiwan.
Evidently, unlike famous puppeteers like Dadi Pudumjee, first Indian ventriloquist YK Padhye, and his son Ramdas Padhye, who brought puppetry to mainstream with Lijjat Papad advertisement, TV shows Aap Hi Sochiye and Meri Bhi Suno, and films like Mahaan and Dil Hai Tumhaara, Chandigarh's puppeteers fail to hold the interest of city's 'intellectual and cultural' elite.
Lacking opportunities
Puppeteer Badri Bhatt, 50, has been performing in and around the city for almost 30 years. In 1988, he moved from Rajasthan to Chandigarh to pursue traditional Rajasthani string puppetry. Besides running a small-time CEN Dance and Music Academy, he is the president of Lok Kala Cultural Society that takes tightrope walkers, jugglers, and puppeteers, from weaker sections of the society, under its wings.
"But these opportunities are few and far between. Earlier, people like us would get to perform at Chandigarh Rose Festival and Chandigarh Carnival, but not anymore; that leaves us with no fixed income," he says. On good days, Badri bags shows organised by North Zone Cultural Centre, Haryana Parishad and other governmental organisations that require his help to propagate their campaigns like Swacchh Bharat, polio awareness, etc. On other days, he performs for school children, birthday parties, and weddings. "So much for the price hike, governmental and non-governmental organisations that we perform for have reduced the rates from Rs 1,400 a show to Rs 1,310," rues Badri.
One for the road
However, 48-year-old 'unapologetic Bengali babu' Subhasis Neogi of PNA—the puppet theatre, who insists on meeting up at Bangla Bhawan, seems rather content with his job.
His stance on the general art scene in the city spells his take on puppetry. His bias for the art becomes clear when he says, "Money or no money, puppetry is my passion and my way of meditation. When money comes into picture so does the scope for compromises, and I don't want to compromise on the content."
Awarded with the Nek Chand Excellence Award last year, Subhasis is busy this summer with workshops at State Library, Divisional Library, and Haryana Kala Parishad. His stick-puppet theatre is coupled with hard-hitting social messages that stem from his personal battles with the education system and his love for breaking stereotypes. Like other city-based puppeteers, Subhasis too makes his own puppets and writes his plays.
"In Elante, somewhere on the ground floor, they sell puppets for Rs 950! And look at this puppet cow I made with a big plastic jar of candies; the ears are made with soap cases," he shares. "I learnt puppetry 15 years ago when Dadi Pudumjee visited Chandigarh for a workshop. I perform for street children, at orphanages, and places where the shout of 'once again, please' is rewarding enough," he adds while giving due credit to his "bitter half" who, he says, bears with his creative and financial quirks, and teaches chemistry in a private school. "She often borrows my puppets to demonstrate a tricky topic to kids."
Class'ism' apart
Kishan Pal of The Arts of Puppet Show is a 30-year-old resident at Bapu Dham Colony. He took to puppetry in 1998. "Before that I was assisting another puppeteer, but he would not teach me. We went to perform at Kullu Dussehra and there I met a few puppeteers from Delhi. I believe they were sent by the Punjab National Bank. They taught me puppetry. Having failed in class tenth, I had no other option than to make a living out of puppetry," he says.
Kishan performs at birthday parties and schools, but he only manages to make Rs 20,000 in a 'lucky' month. "I have also hit new levels of low, with Rs 6,000 a month. At times, I don't get more than three shows in a month. We charge between Rs 2,500 and Rs 3,500 for a show," he adds.
With only four likes on his Facebook page, and nagging health issues, Kishan shares that city folk have appetite for fancier things, not puppetry. "I never lose hope and that's how I get by—one day at a time," he signs off.
Top News
UPI soon for all in-bound travellers, coin-vending machines:...
The bench was told by Solicitor General Tushar Mehta, appear...
US officials have briefed its friends and allies including I...
The incident takes place during the intervening night of Feb...
Asking the offices of Delhi Lt Governor and MCD House Pro te...