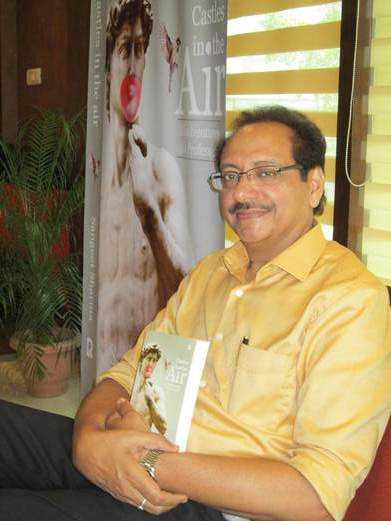 Manpriya Singh
Licensed to build concrete structures on the ground, it would be quite a deadly thing for an architect to be building castles in the air. Well, architect Sangeet Sharma does so. Quite Happily. And after 25 years of practice!
With his sixth book, Castles in the Air: Misadventures of a Profession, the architect- turned-author lays bare the profession brick by brick. "It's a satire on the profession of architecture," he laughs, admitting to be the traitor, who lets the readers in on the inside working of the profession. Be it the architecture colleges which are always the "second choice." He adds, "But that's true, architecture is always the second choice and architecture colleges are generally given the step-motherly treatment compared to their engineering counterparts."
It's not tough to find college freshers exchanging notes on what led them to choose the profession. Anyway, "It's good if we all can laugh at ourselves."
And many good hearty throaty laughs he promises with the book. "I'd say every aspect of an architect's life has been dealt with in an entertaining manner. Right from college admissions to practicing to dealing with plumbers, contactors, clueless but demanding clients, it's one hell of a ride," says the architect currently practicing out of Chandigarh.
The unsung profession
No one considers it all that demanding and certainly no one considers it noble. "Come to look at it, it's about building a roof and a shelter over a man." Nudge him to share the worst part of being an architect and he doesn't take long to answer. "It's a thankless job. Despite what we do and all we put in, it's not hard to come across the owners who eventually tell everybody, 'Saara kuch maine banaya, architect ne kuch ni kiya," he laughs.
For the fictional book inspired by true events and experiences, the author follows the format of Appear and Disappear, which is all the characters come and go and keep doing so throughout out the book.
"There is no traditional format of a protagonist and his life's journey. It's a collection of short episodes involving the characters that run throughout the book and with each episode being a story or a hilarious anecdote in itself," adds architect, author, poet, architectural critic, artist, motivational speaker, thinker, and a musician.
Considering it's his sixth published work, we are sure they are many more in the offing. "My next is a book on the buildings and structures of Amritsar. It's to do with the history of architecture found in the city and yet another is a mystery." Once again against the backdrop of architecture.
manpriya@tribunemail.com
Excerpts
"Yaar, why is drawing shawing necessary for architecture?" Someone asked. "Because architects have to draw," Jaswinder reasoned. "But I have never done any drawing; except for making bad caricatures of my teachers in class."
Next was the drawing examination. The question read something like this: Imagine yourself in a doctor's clinic and draw what all can be seen in the room.
Jaswinder was perplexed. He had walked to a doctor's clinic when he had a severe toothache and sometimes, a deep bout of stomach infection after consuming too many makki di rotis…Who the hell would look around the doctor's clinic when they enter with such pain.