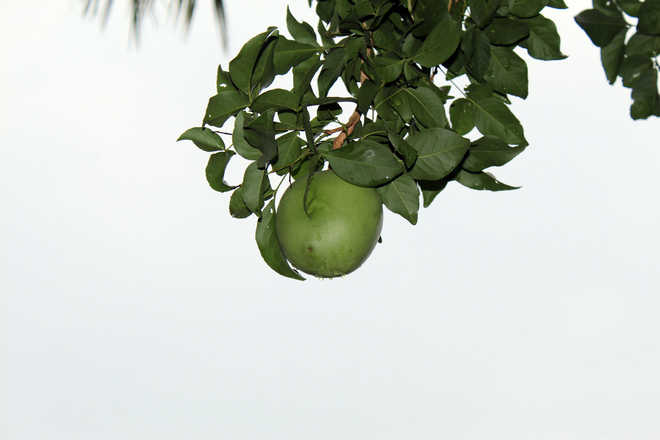 Dr Satish K Kapoor
Shiva (auspicious) is one of the three deities of the sacred Hindu trinity, and is addressed by as many as 1008 names. In a higher sense, he is the absolute and the eternal Lord (Sadashiva), essentially one with Brahma and Vishnu. The plants used in his worship synchronise with the qualities attributed to his anthropomorphic form, as an ascetic.
Bael and dhatura
Bael, also called bilva and shriphal (Aegle marmelos), has trifoliate leaves, representing the three eyes of Shiva. Leaves are offered to the Lord, in the months of shravana (July-August), Bhadrapada (August-September) and Ashwina (September –October).
In Ayurvedic texts, bael is called kama-shamaka -that which dilutes passion. Bilva- ashtkam, eight hymns to bilva, is recited during the observance of vratas or vows, related to the tree.
Shiva remains in divine intoxication. Hence, his association with dhatura or thorn-apple (Datura stramonium), which has hallucinogenic properties. Dhatura is called shiva-shekhara, the crown of Shiva. It is believed to have emerged from Shiva's chest after he drank the deadly poison, halahal, produced during the churning of cosmic ocean. Its leaves and fruit are offered to Shiva on special days.
Bhang, akka and kaner
Shiva is said to have created bhang, Cannibis, out of his body to clean up amrita, ambrosia of immortality, at the beginning of time. Thandai, a beverage made up of bhang-leaves, poppy seeds, almonds and sugar, is savoured on Shivaratri, Holi, and other festive occasions. Sometime, devotees smoke ganja or eat bhang-goli, made up of freshly ground cannabis, in Shiva's name, even though there is no scriptural sanction to it. Leaves and flowers of akka (Calotropis gigantea) and Kaner (Nerium Oleander), having toxic properties, are also offered to Shiva on special days.
Rudraksha
Shiva wears the berries of rudraksha, the Ultrasum Bead tree ,that is highly praised in the Vedic, Puranic and Tantric literature. According to Shiva Purana, rudraksha represents the tears of Rudra (Shiva) which he shed, after waking up from meditation. It is as dear to him as tulsi, holy basil, to Vishnu, and red-hibiscus to Ganesha. Its importance is seen from the number of faces or slits it has – varying from 1 to 24. Wearing a rosary of rudraksha-beads is considered to be good for hypertension and heart problems.
Apamarga & Henna
Just as durva-grass and leaves of shami are dear to Ganesha, apamarga (Achyranthes aspera), a common weed, called puthkanda, is dear to Shiva. In mythology, Shiva remains wrapped with serpents all over his body. He is associated with apamarga, because the plant is an antidote to snake-poison. Application of the paste of apamarga-root at the brow chakra, is believed to open shiva-netra , the eye of Shiva. Henna used during social ceremonies as an adornment, is linked to Shiva because his consort, Parvati, decorated herself with its paste. Henna-flowers help in curing skin disorders, sore throat, and burning sensation.
Flowers
Shiva has little attraction for flowers, which do not fit his ascetic persona. As he remains in deep meditation, he primarily accepts white, yellow or blue-coloured flowers. White symbolises purity, yellow, wisdom, and blue, spiritual awareness. Shiva is associated with the night-flowering, nishigandha (Aka tuberose), because he remains awake at night.
Shiva's flora represents the eerie, the wild, the weird and the toxic in life.
(Dr Satish K Kapoor is an educationist, historian and spiritualist)
Top News
Naresh Kumar who is due to retire on November 30
External Affairs Ministry spokesperson Arindam Bagchi says I...
She said the workers want to go home and are eagerly awaitin...
The workers were pulled out through an escape pipe after las...
The workers hail Prime Minister Modi, Chief Minister Pushkar...