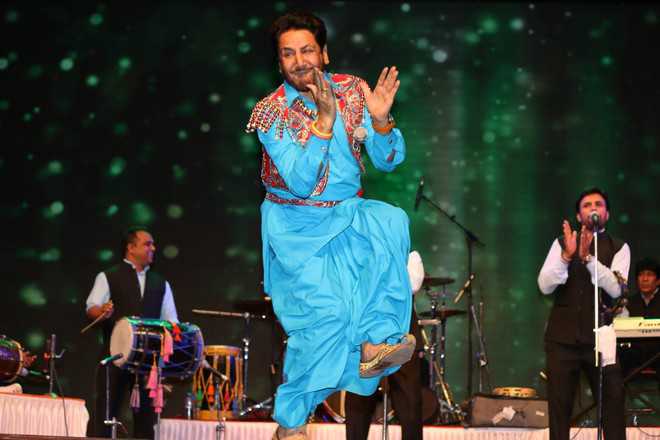 Alpana Chowdhury
He was the man of the evening and he got an enthusiastic, standing ovation when he appeared on the stage of Prithvi Theatre in Mumbai. Gurdas Maan, immensely popular from Ludhiana to London, opened the annual theatre festival in memory of thespian Prithviraj Kapoor this year; and charmed everyone as much with his voice and nimble footwork, as with his endearing humility. Doffing his dafli to actor Rishi Kapoor, whom he spotted in the audience, the singer-actor also sang odes to Sharmila Tagore's smile, teased actor Jim Sarbh with a song on young boys and addressed a few lines to Divya Dutta, his heroine in Shaheed-e-Mohabbat.
Clearly, Maan's huge fan-following has not affected his essential goodness. From bowing before the Almighty to acknowledging the talent of other artistes and his accompanying instrumentalists, this Punjab-born, much-awarded singer is a humble man with a golden heart. His songs come from within, even if he is singing evergreen numbers like Mamla Gadbad Hai or Challa for the nth time! As his voice rises to a crescendo or dips to a whisper, he sings every syllable with conviction, making the simplest of lyrics convey volumes. We speak to this son of the soil on music and other matters.
In one of your songs, you weave in a very meaningful line about saving our rivers and trees. Do you feel you can make fans more sensitive to the environment through your concerts?
Mother Nature is the most significant thing on the planet and will be relevant forever. We, human beings, are merely transitory creatures, but it is our duty to protect nature and ensure it stays intact. All of us, in whatever capacity, must try to sensitise people to this issue. Together, we can save the planet.
Your love songs are very popular. Do you still believe in the power of love and that Pyar ho jaye, toh phir soorat nahi dekhi jaati, kyon ki dil da mamla hai?
Love is the most powerful, intangible thing in the world; and is also incredibly difficult to understand in depth. Two plus two is seldom four in love. Dil Da Mamla Hai was a little attempt at expressing my understanding of love.
You intersperse your songs with anecdotes about yesteryear singers, poets, comedians et al. Is this your way of keeping alive the rich culture of Punjab that is, sometimes, drowned in techno music and other modern trends?
Culture never remains the same, it evolves over time. What was culturally relevant a thousand years ago is history now. But the link with the past should not be broken or forgotten. Singers and poets have always sung of their cultural heritage and thus become keepers of records that people can refer to in the future. We preserve old monuments, but also make new buildings with modern designs. However, the foundation of a new building should follow the basic laws of architecture or else it will crumble in no time. It is the same with culture… modern trends are good as long as they don't lead to the deterioration of society as a whole.
Humility is an abiding trait in you, despite the huge craze you enjoy wherever you go. What keeps you grounded?
Humility is inevitable when you understand that one is irrelevant in the larger scheme of things. It comes naturally when you realise that whatever you achieve is due to a great divine power and that we are merely role players.
What do you listen to when you want to enjoy music?
I listen to everyone from Nusrat saab to Yamla ji to the new singers on TV. They are all equally inspiring, but my favourites are folk tales and Sufi music.
Top Stories