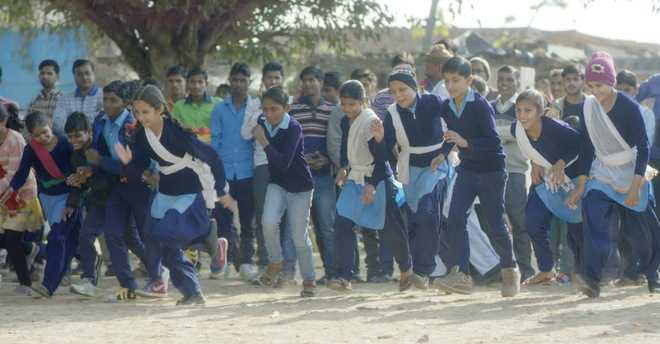 Amarjot Kaur
As an independent filmmaker, 28-year-old Tushar Tyagi picked up two of Narendra Modi's social campaigns, including Beti Bachao, Beti Padhao Yojana and Swachh Bharat Abhiyan, for his up and coming film Kaashi. Despite these excessively advertised campaigns by the government and now in the mainstream cinema with the movie Toilet, Tushar has no inhibitions calling his film the government's mouthpiece, "but that's only if it does contribute something to the society. The subject comes from my personal experiences and observations. Also, I am not taking sides," he makes it clear.
"Kaashi is a 15-minute film about the struggle of a girl from a family too poor to afford a toilet and how she manages to collect enough money from cash prizes she wins at school competitions, like racing, painting, and sewing. It's from this that she gets a toilet constructed at her house," he says, sharing that in the film, Urvashi Singh plays the lead role of Kaashi, and Ishrat Khan plays the role of her mother. "Also, the language the film's shot in is UP's regional dialect—what they call khadi boli."
Pursuing a passion
Tushar says that he studied film direction and filmmaking from New York Film Academy soon after he completed computer engineering from the College of Engineering, Roorkee in India. His first film Gulabee, which he made during his course at The New York Film Academy, won a total of 24 awards, including Royal Reel Award at Canada International Film Festival, a special mention at Dada Saheb Phalke film festival, and Jury award at Richmond international film festival. "Like every Indian parent, my father wanted me to become an engineer, that's why I took to engineering initially. Also, for my second film Hari, I won the honourable mention at La short award, the
Jury prize at Woods Hole Film Festival and Award of recognition at Hollywood international moving picture film festival," he adds. His recent film A Broken Egg won the audience award at NYC Indie film awards.
The inspiration
It wasn't just the idea of going back to his roots that propelled Tushar's intention to make Kaashi. Much of his inspiration comes from his childhood memories of visiting his maternal village during summer vacations. "I would visit my grandparents at a village called Nawali in UP, near Moradabad. I would see a lot of people doing their business in fields near the village and my grandfather would drive with his vehicle's lights switched off. When I went there last year, I found that nothing had changed after all these years. That's when I decided to make a film, which is shot in the same village," he says.
Elaborating on the making of Kaashi, Tushar says that he shot the film with a team of 20 people, some of who he had flown in from Mumbai, and he started the shooting in November last year. Presently, he is in talks with regional ministers so that his film is shown in different villages. "Movies can create mass awareness and they travel fast. At this point and time, the film is travelling in the film festival circuit," he signs off.
Top News
Platina bike Amritpal used to escape from gurdwara mounted o...
Several pictures of Amritpal Singh in different attires rele...
Temblor's epicentre was in west Delhi, at 5 km depth