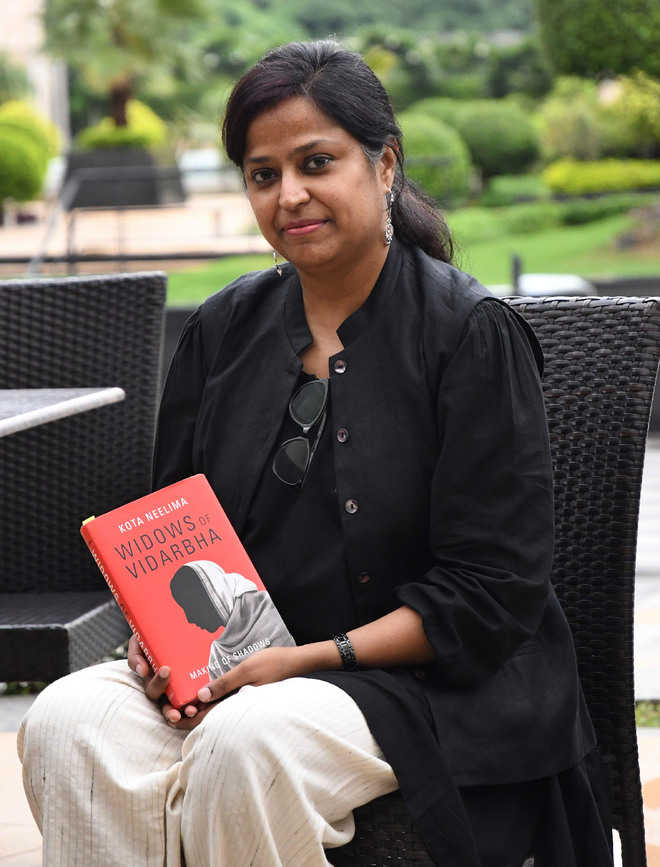 Mona
We must return our villages to the villagers...strongly believes Kota Neelima, a journalist-turned-author, who often tucks away in quaint Kandi, near Khanyara, Dharamshala to write to her heart's content.
Villages are still replete with people who are kind, generous, hardworking and giving, though financially poor. To retain those values while working for the uplift of rural economy is a cause close to her heart. "Himachal villages are 100 per cent organic. That's the way to live," shares Neelima passionately.
In Chandigarh, on Friday, for a workshop with the British Library, this versatile author opened up on the journey that led to her recent book, Widows of Vidarbha. Published by Oxford University Press, this 245-page book traces the journey of 16 widows, their lost dreams and tough survival. A masters in international relations from Jawaharlal Nehru University, Delhi, Neelima worked as a journalist for 22 years and apart from writing, has a keen interest in painting.
Nagging thought that started it all
This author of the bestseller, Shoes of The Dead, was hurt when she read about farmer suicides in rather prosperous states of Punjab, Maharashtra, Gujarat and pursued it. When newspapers were not ready to print her stories, she took on independent research.
Three fictional narratives based on real people, it was 10 years later when it struck her that when speaking of farmer suicides, those left to narrate tales and lead a harsh life, seldom make for a story. And, so began a project close to her heart. "I actually went and lived in these villages with women who, without the permission, couldn't even offer a cup of tea," shares an emotional Neelima, who duly narrated the entire book, duly got it vetted before it went in print. Goodbyes were the harshest. Breaking into tears, she recalls how the final meeting saw tea and savouries prepared in the household where one barely had enough to eat.
Making grassroots entertaining
Expected to chase stories after the miniskirts and cocktails in happening Gurgaon, Neelima chose to follow her heart and write what mattered to her. But then challenges are real – who funds your writing, and, more importantly, how to make these sad stories interesting enough for the readers. "So I took to fiction. And, I am glad that some of the books have made it to the best sellers' list."
It's Telangana's farmers that piqued Neelima's interests next. "It's a new state and I wonder why, even without any past baggage, the state whose revolution was led by 50 per cent by rural folks can't look after their interests?"
---
Be social media savvy
In the world of social media when each one of us is turning a writer, author and corporate trainer Suditi Jindal doles out some tips for posting on social media:
First and foremost aim at non-violent, neutral language. Positive communication is the key.
Let another pair of eyes see it. This person need not be a language expert but someone trustworthy who can share the take honestly.
I am not for mixing of languages. Want to express an intense emotion that you don't find an English equivalent of, go all the way in Hindi. Stick to one language at a time.
Top News
Hits back at BJP | Cong brass holds 'satyagraha' for Rahul
Scribe abused & assaulted, MEA flays attack
Mann: Rs 15,000/acre relief if damage above 75%