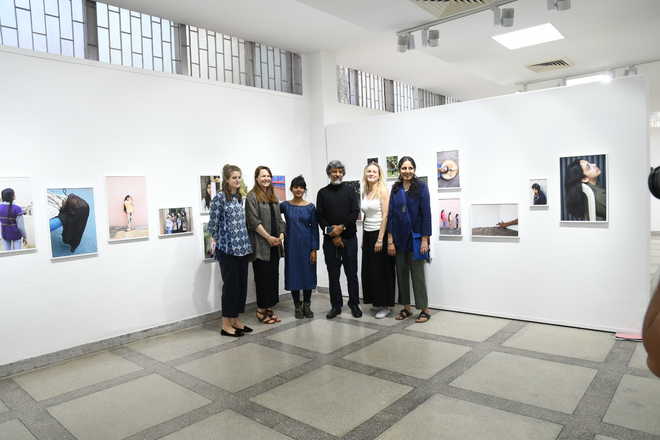 Amarjot Kaur
A fortunate stroke of serendipity brought photographers Jocelyn Allen, Andrea Fernandes, Jennifer Pattison and Uzma Moshin to exhibit a compelling account of Punjabis living in India and in Black Country through their photographs. The exhibition, organised by Punjab Kala Bhawan and Creative Black Country, titled Girl Gaze: Journeys through Punjab and Black Country, UK, is a consequence of a cultural exchange programme, announced in 2016, called Re-imagine India investing in creative collaborations between arts organisations in the UK and India by the Arts Council England and British Council.
The 50-year-old curator of the exhibition, Iona Fergusson, says, "The Black Country, a region of the West Midlands in England, west of Birmingham (commonly refers to all or part of the four Metropolitan Boroughs of Dudley, Sandwell, Walsall and Wolverhampton), became one of the most industrialised parts of Britain with coal mines, coking, iron foundries, glass factories, brickworks and steel mills during the Industrial Revolution. It is also one of the largest Punjabi diasporas outside of India and since their arrival in the 1940s they have created a unique identity in the area, redefining the cultural, economic and social landscape of Black Country."
Partnering with Multistory (UK) and Nazar Foundation (New Delhi), the Creative Black Country saw an opportunity to celebrate their exceptional contribution by commissioning four photographers to create stirring stories about the lives of Punjabi community in India and abroad. "Considering the ongoing debate on gender equality, the team felt that it was important to support the creation of work about women and by women," Iona shares.
Picture it with poetry
Fusing poetry with photography, Jocelyn Allen has clicked some 40 portraits of women in Jalandhar and Black Country. Of all these pictures that reveal as much as they conceal, a creative play that Jocelyn extended to the portraits, feature Dalit singer Ginni Mahi and poet Rupinder Kaur. It's titled You Will Live In This World As A Daughter. "Last year, in November, I travelled to the Black Country and Jalandhar to discover the lives of Punjabis in the regions. In Jalandhar, I was astounded to see how more women are taking up sports to escape early marriage and get free education under sports quota. I interviewed archer Rajat and her sister and found their story very compelling," shares 29-year-old Jocelyn.
Impose and then re-impose
Uzma Moshin, from Delhi, owes her experience at Wolverhampton to a book that had already introduced her to the Black Country. Living in India, she had a fair idea of Indians living abroad through the relatives they had left behind before moving to the UK. "I was reading this book called The Boy with the Topknot: A Memoir of Love, Secrets and Lies in Wolverhampton, before I was commissioned to visit Wolverhampton," she says. With a background in journalism, Uzma clicks on film camera and interviews her subjects as she allows them to click random pictures on her camera. Employing her understanding of her subject, she uses the negative clicked by them to impose her perception of them, making abstract yet splendidly meaningful pictures. "I met a woman who was exceptionally interested in fashion. She had clicked her car, and was thrilled to be driving it. When I came back to India, I clicked mannequins and re-imposed it on the car's picture. There's a little bit of her, and a little bit of my understanding of her here," she says. Uzma also collected photographs from Apna Heritage, a heritage group that collects personal albums so document people's lives and cultures in Black Country, to make their re-imposed pictures. Her collection is titled 'Love and Other Haunts'.
Installation of perspectives
Bombay-based Andrea Fernandes is 33 years old. In a dark room, she has put up an installation of that has an immersive 3-dimentional display of some 400 pictures that are weaved in a story-like format. There's Raj and Simran, inspired by Bollywood's DDLJ. The only exception is that here, Raj and Simran are girls who left for the UK to seek liberation. The two projectors play up the pictures on small blocks, breaking the pictures in parts. "The best pictures came out of great conversations," she says. Her installation is called, 'You Laugh As Much As You Cry'.
Of womanhood
Titled Rice Pudding and The River of Dreams, 39-year-old Jennifer Pattison captures the subtle beauty of motherhood that led her to explore loris (lullabies) of the region. She travelled to Patiala, first in November and then in January, to click pictures of mothers and their newborns. The collection was named after a picture of rice pudding on a blue velvet cloth that looked like a moon in the blue sky at dusk. "I found the chanda maama too," she says, while pointing at a picture of an old man. Jennifer also captures small traditional toys used in Punjab for the newborns, charkhas, and picturesque landscapes of Patiala. She, too, clicks on a film camera, Hasselblad. "You have to be careful and mindful while shooting on a film camera. Also, I have a waist-level viewfinder that helps me interact with my subject," she says.
Girl Gaze: Journeys through Punjab and Black Country, UK, will show in Chandigarh, Jalandar, and the UK.
(It is on in Chandigarh's Punjab Kala Bhawan till March 18.)
Top News
In Mizoram, Zoram People's Movement is locked in close race ...
Defence acquisition projects include procurement of 97 Tejas...
India has constituted a probe team to investigate allegation...
Nikhil Gupta, 52, has been charged with murder-for-hire in c...
GDP growth in the first quarter of current fiscal — April-Ju...