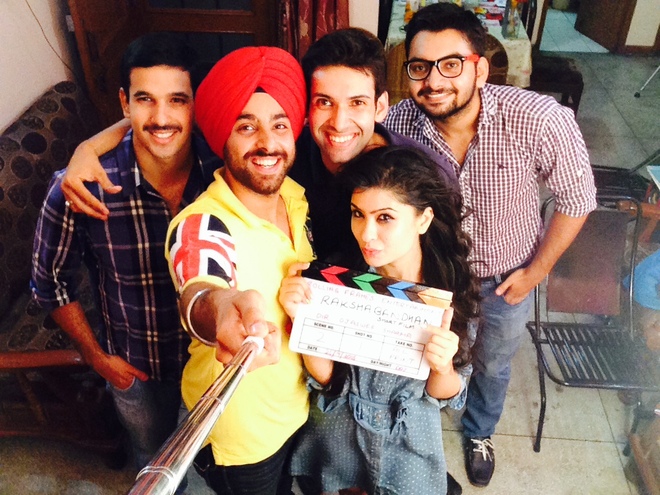 Amarjot Kaur
Amidst all the gala and festivity that marks the advent of Rakshabandhan, make way for Gal Ban Gayi, a five-minute Punjabi film offering a buffet of twists that are wired around the relationship of a Punjab-based brother and sister.
While the plot of the film borders along the deal (mutual agreement) between Kannu and Simmi, who belong to a middle-class Punjabi Family, it has been written, produced and directed by Ojaswee Sharma under the banner, Rolling Frames Entertainment.
In conversation with the male lead of this five-minute long drama-comedy, Kanwalpreet Singh, who started his career as a reality TV star, shares more than just the details of the film.
"Well, I was working in Chandigarh when I auditioned for a reality show titled, Love Net (Season 2) on Channel V. Once I got bitten by the acting bug, there was no looking back," he says.
Having acted in Punjabi films like Bikkar Bai Sentimental and Naughty Jatts, Kanwalpreet will soon be seen in Imtiaz Ali's next film Tamasha, where he will be seen playing Ranbir Singh's best friend. However, he chooses to talk about Gal Ban Gayi.
"So, Ojaswee and I just randomly stumbled upon the idea of making a short film about Rakshabandhan, and we started making a rough sketch about the film, which took us about two hours. We almost had the entire script ready and looked at each other surprisingly, we echoed the same line together—Yaar, Gal Ban Gai! Thus, the title," he shares.
Kanwalpreet says that the core content of the film emerged from Ojaswee and his observation of modern- day relationships, especially between a brother and a sister. "If you are not that lucky, you would be staying away from your family and this situation, relationships run their own course or communication through different channels. This film takes a dig at the bond between Kannu and Simmi, where as Kannu bribes his sister, or rather makes a deal to get rid of a problem," he says. "Also, the film has been shot in my house and my parents have acted in the film too," he adds.
Kanwalpreet shares that it was quite easy playing the role of Kannu because it is relatable to his real life. "Well, It was quite easy to play the role because Kannu, like me is a 26-year-old, who is dealing with some parental pressures. Also, Shilpa plays the role of a cute bubbly girl, Simmi, in the film and she has done several Punjabi videos and a couple of films too," he shares.
Kanwalpreet also penned a couple of dialogues for the film as he teamed up with Ojaswee in the past too to produce some entertaining films for the Internet audience Kamley and The Parikrama of Gurudwara.