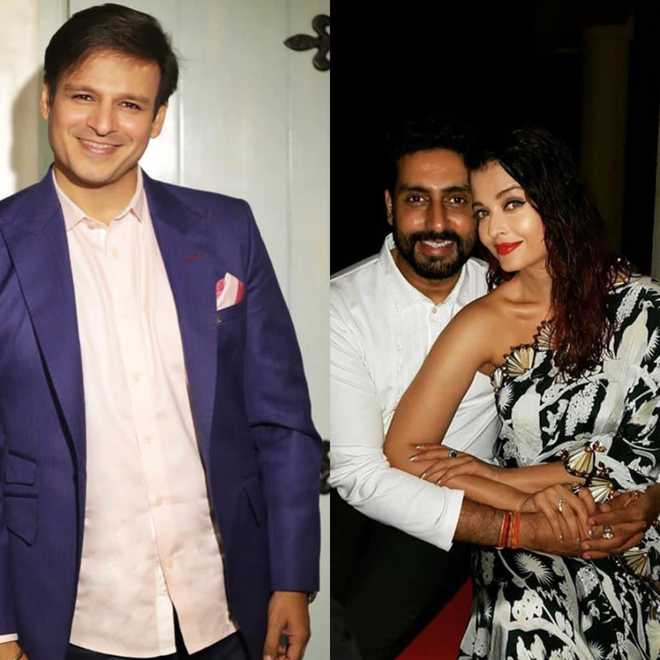 Tribune Web Desk
Chandigarh, May 26
About a week ago, actor Vivek Oberoi had posted a meme on his rumoured ex-girlfriend Aishwarya Rai that left social media furious.
The re-tweeted meme was divided into three parts, depicting her relationships with Oberoi, Salman Khan and husband Abhishek Bachchan.
He had captioned it: "Haha! Creative! No politics here...just life".
Understandably, Abhishek lost his temper, but refrained himself after Aishwarya calmed him down.
Sources say the meme infuriated Abhishek, but Aishwarya reportedly asked him to ignore the meme and put it to down to "a publicity stunt" to promote his upcoming film 'PM Narendra Modi'.
Meanwhile, B-town celebs, including Anupam Kher, Urmila Matondkar, Sonam Kapoor and Madhur Bhandarkar, criticised Oberoi.
Even 'PM Narendra Modi' director Omung Kumar said that Oberoi's meme "went the wrong way," and the joke stretched on for too long.
After his tweet severe backlash, faced Oberoi apologised later saying: "Even if one woman is offended by my reply to the meme, it calls for remedial action. Apologies tweet deleted".
Vivek tweeted: "Sometimes what appears to be funny and harmless at first glance to one, may not be so to others. I have spent the last 10 years empowering more than 2000 underprivileged girls, I cant even think of being disrespectful to any woman ever".
Even if one woman is offended by my reply to the meme, it calls for remedial action. Apologies🙏🏻 tweet deleted.

— Vivek Anand Oberoi (@vivekoberoi) 21 May 2019
Sometimes what appears to be funny and harmless at first glance to one, may not be so to others. I have spent the last 10 years empowering more than 2000 underprivileged girls, I cant even think of being disrespectful to any woman ever.

— Vivek Anand Oberoi (@vivekoberoi) 21 May 2019