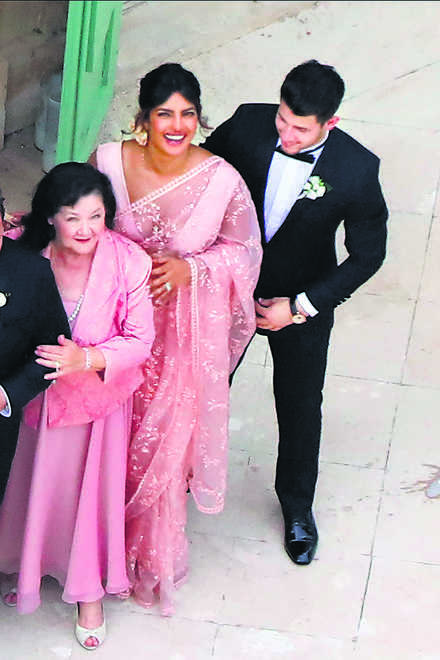 Mona
It started rather slow early on Monday, but by the afternoon of Tuesday #SareeTwitter was all over... celebs or not, old or young, even the toddlers were stuttering around in their fancy-wear on what seemed like a pleasant catwalk for everyone to see!
Actors, politicians, homemakers and professionals, Twitter was flooded with pictures shared by women. Many men took to Twitter to share pictures of their mothers and wives. Ayushmann Khurrana was candid enough to share his! Draped in a green saree with golden border with the hashtag of his upcoming film Dreamgirl!
Timeless appeal
Sophisticated or sensuous, ramp to roads, what is it that makes these six yards a timeless fashion statement? Sunita Budhiraja, founder chairperson, Six Yards And 365 Days, answers, "You wouldn't find a more versatile garment. It's an attire to fit any occasion. Sweating – use it as towel, hot — cover your head with the pallu, cold — wrap around like a shawl, it's the multi-functionality that makes it stand out."
Herself draped in a saree each single day, she is partial to it also because it's like carrying one's rich heritage, literally on the sleeve." Sunita started the saree Facebook closed group and has worked for the revival of handlooms, "Saree in any style is welcome, only as long we also are mindful of treasuring our rich weaves."
The timeless elegance of the Benarasi saree made many a fashionista hunt down their trousseau soon after the Anushka-Virat's wedding reception. Lately, Priyanka Chopra went all desi in pale pink Sabyasachi at Sophie Turner-Joe Jonas French nuptials.
Must in a wardrobe
Designer Suruchi Parakh is not very active on Twitter, but her husband told her about #SareeTwitter and also tweeted her ruffle saree pictures from the wedding. "We were surprised to see saree trend just came from nowhere and laughed. To be honest, it's good to have sarees back in trend with multiple hashtags. It would make wider noise." Saree is one attire that one is sure to find in every woman's wardrobe, regardless of their income or class. Suruchi lauds Fashion Design Council of India's idea of "Six Yards" in which designers present creations for the younger generations. "It's heartening to see young girls tweeting their pictures in a saree with such pride. It sure has given much-needed fillip to saree designs and that too right before festive season begins."
Designer Narendra Kumar hails the saree as one classic piece that can be adapted in multiple ways. "Its versatility comes from the fact that it has width in prints, colours and texture. It also works for all body types and skin tones. Also, the fact that every saree tells a story makes it unique."
Politics behind it all?
The viral trend #SareeTwitter has its roots back in The New York Times article 'In India, Fashion Has become A Nationalist Cause', published in November, 2017. What followed after the article surfaced was public's discontent and criticism on Twitter and other social media handles, especially Indians, as it criticised India's fashion industry and said it is influenced by politics since the Gandhian era, where Nehru jackets became a trend. And now, Modi is promoting the saree and discarding western clothes to push his political agenda. While it stressed upon Modi's constituency Varanasi's weavers economic conditions, who produce Benarási saree, it agitated many who believed that the article was misleading and everything was portrayed from the western point of view. Which is why this #SareeTwitter posts gained popularity! — Sheetal
Top News
Khalistan sympathiser appeals to Akal Takht chief to call 'S...
BJP leaders attack the Congress, accusing the party of invit...
Ten women and a man died in the accident, state home ministe...
Several vehicles torched, shops ransacked on Thursday evenin...
India reports 40 per cent jump in new Covid cases