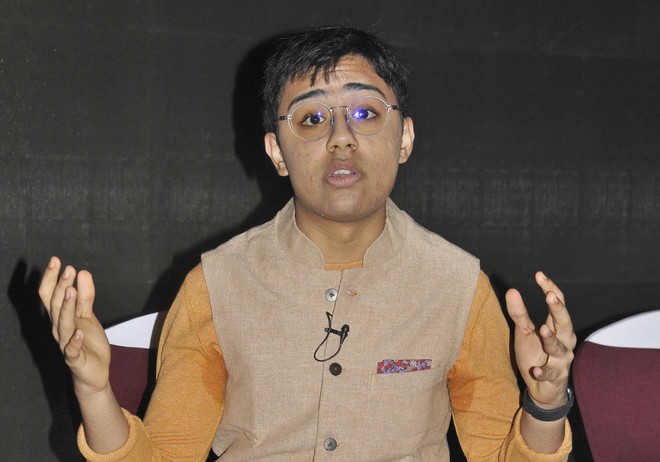 Ludhiana, December 8
Tanmay Bakshi — the youngest IBM programmer and Artificial Intelligence expert was in the city on Friday.
Entrepreneurs Organisation, Punjab, organised a talk with the computer geek, which was attended by EO members and youngsters, who got a chance to meet and interact with Tanmay.
Tanmay shared his journey of becoming the youngest programmer with IBM. "I started my journey at the age of 5 and was taught basic programming by my father, who is a computer programmer. He would work endlessly on the computer and after seeing him working, I also got interested in it. My father nurtured my dream and would always satisfy my queries every time I asked a question," he said.
"I started my own YouTube Channel at the age of 7 and at the age of 11, I was fascinated with IBM Watson and went on to become the world's youngest IBM Watson programmer. I launched my app 'Ask Tanmay' and have a couple of apps in the app store to my credit," he said.
IBM Watson is an intelligence engine that handles Artificial Intelligence.
"At present, I am focussing on a project called Cognitive Story to help doctors. It will help those people, who do not have the ability to communicate by birth or have lost the same after an accident," he said.
He said Artificial Intelligence can work wonders in medical field and also in detecting depression, cancer and other diseases at an early stage. "Technology has fascinated me since childhood and my passion is to put it to right use," he said.
According to Tanmay, Artificial Intelligence will never overpower humans. "Humans should not worry about Artificial Intelligence overpowering humans. Machines will overpower humans only when they will be equipped with artificial general intelligence and that might not even happen," he said. — TNS
Top News
Premises connected to news portal's journalists raided; 46 s...
Prime Minister accuses BRS dispensation of 'looting' funds m...
This is the gist of the letter sent by CM to Banwarilal Puro...
Also said that it's important for Canada to have diplomats o...
Petitioner contended that the nature of information sought i...