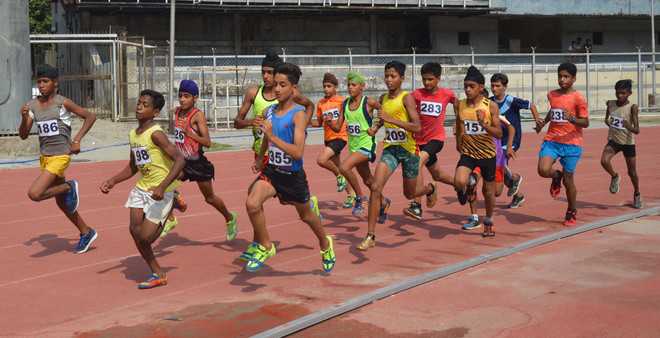 Our Sports Correspondent
Ludhiana, August 21
The three-day Punjab State Games for Boys (U-14) got off to a colourful start at Guru Nanak Stadium here on Wednesday.
The games are being conducted by the Punjab Sports Department with the help of the Punjab State Sports Council under the Tandrust Punjab Mission and to commemorate the 550th birth anniversary of Guru Nanak Dev.
Around 3,000 players, besides 300 officials, from across the state are taking part in these games in which competition in sports disciplines such as athletics, basketball, badminton, table tennis, boxing, wrestling, gymnastics, volleyball, kho- kho, hockey, handball, football, swimming, judo, chess, roller skating, fencing, kabaddi (national and circle style) and archery is being held at different venues across the district.
The venues are Guru Nanak Stadium, multipurpose indoor hall, Shastri Hall, BVM School, Leisure Valley rink, Khalsa College for Women, MC Swimming Pool, Rakh Bagh and GHG Khalsa College, Gurusar Sadhar.
Mamta Ashu, councillor, Municipal Corporation, and wife of Bharat Bhushan Ashu, Punjab Cabinet Minister, declared the games open. Before the formal inauguration, she unfurled the games flag and released the colourful balloons to mark the opening of the event.
She took salute from the participants at an impressive march past. Vishavroop Singh (hockey) was the flag-bearer during the march past while Rajveer Singh, Arshdeep Singh and Darshpreet Singh (hockey), Aryan, Priya Sharma and Amandeep Kaur (judo) carried the games torch in the stadium.
Hockey player Dilpreet Singh took oath on behalf of the participants to compete in a fair manner. The chief guest exhorted the players to play in the true sportsmanship.
The highlight of the opening ceremony was a gymnastics show and a cultural programme. Ravinder Singh, District Sports Officer, Ludhiana, extended welcome to the chief guest and wished the participants and officials good luck for the ensuing competitions.
Teja Singh Dhaliwal, vice-president, Basketball Federation of India, and Mithu Chadha, secretary, Punjab Pradesh Congress Committee, were among other prominent personalities present on this occasion.
On day one, in swimming, hosts Ludhiana opened their account with gold medal as its quartet finished ahead of others in the 4x50-metre medley relay while Faridkot and Patiala secured silver and bronze medals, respectively.
In the individual event, Krishna Rawat of Sangrur fetched top honours in the 50-metre freestyle event whereas the second and third positions were bagged by Adhiraj Singh Mangat of Ludhiana and Manan Sukhija, also from Ludhiana, respectively.
In the 50-metre breaststroke, Awteshar Singh from Faridkot secured first position and his city mate Kamal Giri won second position while Sudip Rana from Jalandhar had to content with third place.
In the 50-metre backstroke, Kanwarjit Singh from Mohali came out triumphant, followed by Parteek of Patiala and Varun Sharma of Ludhiana at second and third places.
Mohali's Anjum Sharma finished well ahead of others to clinch gold medal in the 50-metre butterfly stroke. Parteek Behl of Ludhiana finished as runner-up while Vivek of Ferozepur secured the third spot.
In first round matches in kho kho, Kapurthala beat Barnala 14-3; Mohali overpowered Faridkot 9-5 and Jalandhar defeated Ferozepur 14-8.
In football, Moga outplayed Mohali 3-1; Bathinda beat Taran Tarn 2-0; Jalandhar got walkover against Fazilka; Sangrur blaked Faridkot 4-0; Mansa pipped Pathankot 4-3 and Muktsar got walkover against Ferozepur.
In kabaddi, Fazilka outnumbered Mansa 59-35; Amritsar beat Barnala 30-13; Bathinda outclassed Mohali 64-39; Fereozepur routed Gurdaspur 55-15; Patiala defeated Jalandhar 37-18 and Sangrur prevailed over Mohali 24-10.
In badminton, Bathinda outplayed Ropar 2-1; Ferozepur beat Barnala 2-0; Mansa defeated Fazilka 2-1; Fatehgarh Sahib beat Moga 2-1 and Patiala got the better of Mohali 2-1.
In table tennis, Sangrur beat Bathinda 3-1; Ludhiana beat Fatehgarh Sahib 3-0; Ropar beat Faridkot 3-0; Barnala beat Patiala 3-0 and Jalandhar beat Ropar 3-0.