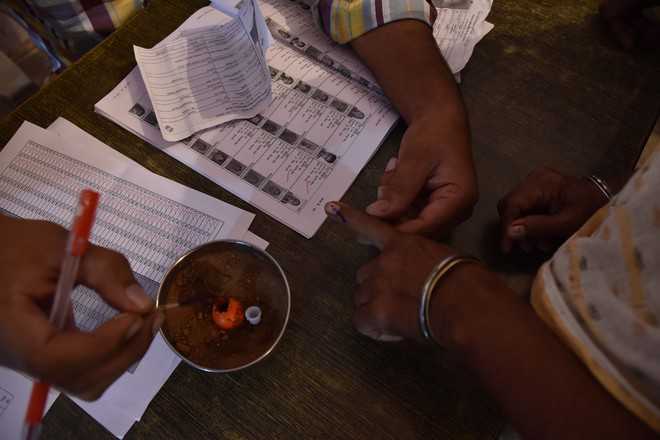 Harshraj Singh
Tribune News Service
Ludhiana, October 21
Amid reports of a firing incident, 71.64 per cent voting was recorded in Dakha constituency on Monday.
Of them, 72.48 per cent males and 70.79 per cent women exercised their right to vote, whereas there was no polling of votes by the third gender.
In 2017 state Assembly elections, the polling percentage was recorded at 81.52 per cent in Dakha constituency, while it was 84.54 per cent in the Assembly election of 2012. However, only 67.54 per cent had used their right to vote in Dakha constituency during the 2019 Lok Sabha elections. Thus, the polling percentage increased as compared to the last Lok Sabha election of 2019, but reduced as compared to the Assembly election of 2017 and 2012.
As many as 220 polling stations, including 108 critical and 40 vulnerable, were set up in Dakha Assembly during the bypoll. The situation was tense for the last several days in various parts of the constituency as the Congress and Akali leaders were challenging each other.
At some polling stations, long queues were witnessed, while 23.76 per cent polling was recorded from 7 am to 11 am in the segment. There were complaints about snag in three to four EVMs at different locations, but requisite measures were taken immediately, the administration claimed.
Major political parties had set up their stalls at a walking distance from the polling stations. The counting of votes would take place at Guru Hargobind College, Gurusar Sudhar (district Ludhiana) on October 24.
No check on outsiders
The district administration and the police failed to keep a check on a large number of outsiders, who were seen roaming near the polling stations at Mullanpur-Dakha town and various villages. Many leaders from different political parties and several MC Ludhiana councillors were seen in Dakha today, openly violating the Model Code of Conduct. Simrandeep Singh, the candidate of Aapna Punjab Party, said: "I have seen that many outsiders had gathered near the local mandi today. It was in violation of the Model Code of Conduct."
District Election Officer, Pradeep Kumar Agrawal, said there were complaints about outsiders in Dakha constituency. These complaints were forwarded to the police, he said.
Agrawal said the district administration has come to know about a firing incident and investigations into this incident was on. However, he claimed that this incident took place after the polling process and was away from the polling station. Besides, no case of violence was reported from any other village or area of Dakha Vidhan Sabha constituency, he claimed.
Notably, the District Election Officer had earlier ordered that all political leaders, functionaries or party workers, who are not registered voters, will have to vacate the constituency after poll campaign ends. However, the elected MP or MLAs of poll-going constituency should not be asked to leave the constituency during the election even if he/she is not an elector of the poll going constituency, he had earlier stated.
Common problems always ignored: women
As many as 70.79 per cent women of Dakha constituency used their right to vote on Monday. However, a number of them sought that basic amenities be ensured in their respective areas. A group of women outside Government Senior Secondary School, Mullanpur Dakha, complained about poor sanitation and solid waste management system in the town. They blamed the elected representatives for always ignoring common problems. "There is no proper drainage system in our town. Whenever it rains heavily, the drainage system stops working. There is no proper system to handle solid waste management. We always cast vote, but the issues are always ignored," a woman said. Sarbjit Kaur of Pandori village said: "We want that the waste management system be ensured at the village. A few candidates have assured to fulfil the demand. Besides, we want that the required basic amenities be ensured."