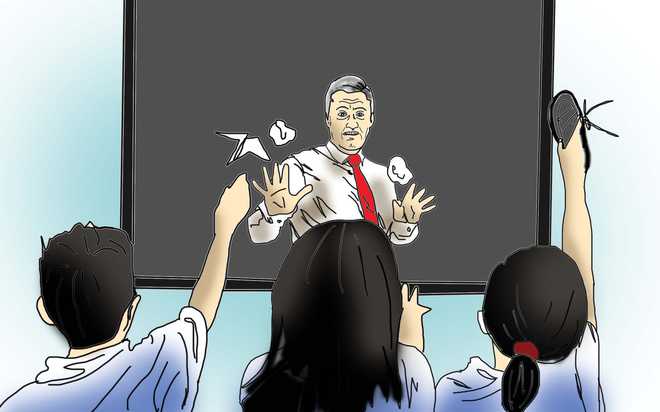 Guru-shishya tradition is loosing sheen
The growing intolerance among new generation resulting in violence towards teachers is a matter of grave concern. The old-age guru-shishya parampara is loosing its sheen. The fault lies with the modern-day parenting as undue pampering is creating intolerance among youngsters. The absence of elderly guidance in nuclear family system is responsible as parents and children have less interaction as parents are busy following their dreams. And, kids have nobody who can put them on right path. Schools and teachers are also to be blamed as they are running after money and have made this noble profession a business. Also both parents and teachers themselves are now short-tempered and have very little patience and give very little time to kids. Parents and teachers need to join hands to tackle the situation and build a bond of mutual respect and trust. They must ensure that they spend quality time with kids; patiently listening to their queries, problems, suggestions etc. Internet usage and television viewing by children must be carefully monitored by elders in the family. Parents along with teachers should give more stress to physical activities so that kids' energy can be channelised for their better future.
Megha Chugh
---
Bring up children in disciplined manner
What happened in Yamunanagar is the reflection of society we live in today. The student-teacher relationship used to be considered the most pious one in the world. But with these incidents, it has taken a beating. It is lack of sensitivity on the part of the teachers that they fail to handle such students, and students no longer think teachers as their gurus. It is the responsibility of parents to bring up their wards in a disciplined manner. Teachers and academicians also must make efforts to understand the students. The teachers shape the destiny of students and build the future of the country.
Major Gurdeep S Samra (retd)
---
Schools being run as commercial institutions
A teacher has always been considered as a 'nation builder' and teaching has been considered as the most noble and respectable profession. But these days, schools have been commercialised and are being run as commercial institutions. Schools make a hole in the pocket of parents by charging huge amounts on various accounts and teachers adopt every coercing method to compel students to opt for extra coaching. There is a feeling of unrest between the students and the teachers. The teachers should perform their duty as a noble and pious act and the students be apprised of the role of teachers in building their career. A bond of understanding and trust must be created to avoid eventualities.
SK Mittal
---
Teacher-student relations hit a new low
The recent two incidents in which a student of a private school shot dead his school principal at her office in Yamunanagar, and a student of a government school punched his teacher and fled away are very disturbing. Both cases points towards the growing violent nature of the students. It has come as a rude shock to all and compelled us to think how the student-teacher relation has touched a new low. It also shows how our education system has become hollowed, rotten and infected. Gone are those days when a student like Eklovia cut his thumb on the saying of his guru and offered to him on his demand. Such high-level respect was there in the minds of the students for their gurus and teachers were also followed the high moral values and taught their disciplines in the true sense, laboriously and honestly. Now, education institutions, which were considered as the temple of reason and knowledge, have become commercial centres. Main aim of all such centres is to earn more money by all hook and crook means and corrupt practices. Such incidents are the result of intolerance, lack of love, respect and responsibilities on both sides. The old-age schooling was much better in spite of lack of resources and infrastructures as compared to modern-day schooling. Our education system has totally failed.
Kuldip Singh Kreer
---
Youngsters have become aggressive
The student-teacher relationship was considered to be the pious relationship, and schools and other academic institutes were considered as temple of learning. Social media should also be blamed for such incidents. Youngsters have become more aggressive and they don't have tolerance to bear anything against them. In the present scenario, there is a dire need to build a cordial relationship to tackle the ever-increasing aggression among school and college students. There must be a compulsory subject on ethics as a part of course curriculum and a counseling cell for students in each school and college. Teachers must deal separately with those students who are aggressive. Schools and colleges should install CCTVs at some prominent places. There should not be burden of homework on students. Participating in one game of student's choice should be made compulsory for their physical and mental growth. Special arrangements for visits of students to old-age homes and orphanage centers should be made so that they learn to take care of a section of society which is socially deprived.
Dr Mohd Saleem Farooqui
---
Violent behaviour of students
We all have heard about teachers who have been assaulted. These incidents are really scary for the teaching community and teachers are working in a fear. In a nationwide survey, around 80 per cent of teachers are reportedly being victimised at least once in their career. There is a growing understanding of how trauma and adverse childhood experiences not only affect the brain and learning of a child, but can lead to numerous behaviour changes, including aggression. Necessary reforms in the education system and juvenile justice should be implemented and replicated across the country. Suspension, expulsion and involvement in the criminal justice system are not effective discipline tools and do not solve the problem. Negative school environment, disorganised school structure and lack of administrative and collegial social supports are the possible reason of increasing violent behaviour of students. Unsafe teachers cannot assist their students in reaching better academic achievements. So efforts should be made to make the student-teacher relationship friendly and more positive so that the students and teachers work in a protected and liberal environment.
Dr Jasdeep Kaur
---
Start metal detector test of students
A growing body of research focusing on the prevalence of violence among school-age students has indicated that violence in schools has been steadily increasing not only in India but across the world. Violence against teachers has become a "national crises". As per their report, more than 80 per cent of teachers have had faced some sort of violence from students they teach. These children are traumatised and just need proper guidance. Further, the recent incident of Swami Vivekananda Public School, Yamunanagar, where in a Class XII student shot dead his school principal Ritu Chhabra, has shocked everyone. Academicians believe that there are several factors responsible for the increasing aggression against teachers such as absence of law to deter violent behaviour of a student, effects of media etc. Through television and Internet, students are constantly exposed to violence. Even shows that are designed for children are filled with scenes of violence. Though there are many educational benefits provided by the Internet, but the amount of inappropriate material available has overpowered the beneficial material. Many children have facing difficulty in separating reality from fantasy and this often creates problems when these negative misconceptions are brought into the school system. Besides this, experts say that poor parenting as well as family breakdown is also fuelling a rise in violent bad behaviour of students in Indian schools. They also says, "Parents are largely responsible for the disrespect of teachers, and sometimes they encourage their children to disobey teachers' instructions, threatening to complain to the school principal." That is the reason why the teachers are no longer remained respected among the students. Keeping in view the fact that assaults against teachers pose a pressing problem in these days, schools or educational institutions in the city, state and at country-level requires immediate study and research on the causes of the problem and feasible solutions. Besides organising meaningful parents meetings, the schools should also start awareness seminars to teach parents how to face their surrounding circumstances and challenges without adversely affecting their children's behaviour. Moreover, schools should keep a strict vigil to access the weapons as many teens still illegally carry guns and harm others and themselves. In order to prevent the entry of any type of weapon on the school premises, each and every student should pass through the metal detector test and their bags should go through the security X-ray scanner every day.
Ravi Chander Garg
---
Onus lies with teachers, parents
In modern times, everything is evolving. Similarly, the relation between the teacher and the student has also changed over the years. With the tones of information available on the Internet, every youngster has an easy access to things which might be harmful for them. Though there have been many instances where the school authorities are to be blamed for putting unnecessary burden on students, it is also responsibility of the parents to look forth that there child is not affected by that load in a negative way. On the other hand, it is wrong on the part of the school authorities to be more strict with a student. A friendly relation with the student with obviously maintaining the dignity of the relation should be maintained.
Karan Chopra
---
Need to act more sensibly
It is true that the relationship between the student and teacher is not same as it was in earlier times. We were taught about 'Eklavya' in our childhood. But nowadays, the students are very aggressive and their patience level is very low. In the present scenario, they believe that teachers are a threat to them. Teachers should realise that they are the ones who mould the future builders of the country. Hatred and aggression was the only reason that a student shot his principal dead. There should be an equal and united effort from both sides. The students should be more patient and calm, and should act more sensibly. Also the teachers should understand the actual purpose of their profession.
Manav Bansal
---
Keep vigil on children's activities
In today's scenario, it's very difficult to tackle students with intolerant mindsets. Every student should have some tolerance and patience. There should be proper counselling of students with such mindsets by parents as well as their teachers. Parents should keep an eye on their children and should be aware of their day-to-day activities. Keeping revolvers at home is very dangerous for youngsters because they have lot of anger these days. Aggression is increasing day-by-day by the students. Issuing of illegal weapons to anyone should be prohibited.
Japleen Kaur
---
Think before you act
Nowadays, anger and frustration among youths has increased. Recently, in Yamunanagar, a student shot dead his school principal. The reason behind this murder was anger because his principle had warned him for his low attendance. Somewhere, youngsters are encouraged due to freedom from their parents and they take advantage of their freedom in a wrong way. Also, the students are influenced from the songs which promote subjects like clubbing, weapons, liquor, rich lifestyle etc. To control these problems, parents should monitor the day-to-day activities of their children.
Prabhdeep Dhaliwal
Top News
The former military ruler had left Pakistan in March 2016 fo...
After his failed misadventure in Kargil, Musharraf deposed t...
Military shoots down the surveillance balloon in Atlantic Oc...
The incident took place on Friday when Kambli reached his fl...
Dearness allowance for employees and pensioners are worked o...