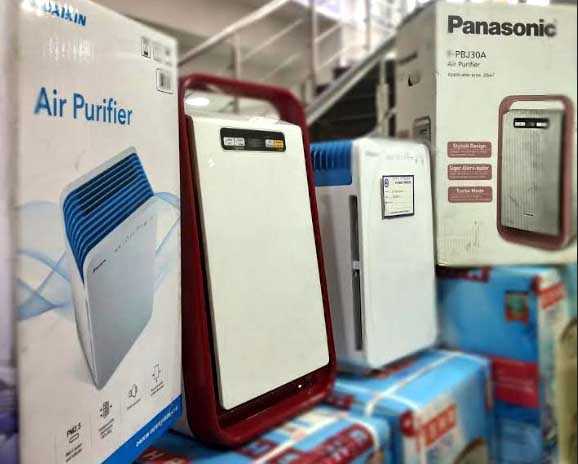 Gurvinder Singh
Tribune News Service
Ludhiana, November 25
Water filters, despite studies revealing their harmful effects in changing the acidity of water, removing minerals and causing wastage of water, have become a household item and continue to remain so because of the poor quality of water supply. With rising air pollution, the air purifier is ready to be tagged as "essential" and "indispensable". Companies are leaving no stone unturned to make the most of the worsening air quality.
Air purifiers are increasingly becoming ubiquitous and their advertisements are popping up everywhere. These are being promoted as the "safety net" for people and their children to protect themselves from the dangers of increasing air pollution.
"Using air purifiers and water filters is like being on medication forever," said Gurdeep Kaur, a resident.
Environmentalists say while these gadgets might be becoming an immediate necessity, the government needs to awaken to this pollution to take steps at the macro level and on large scale. "Rather than taking such steps, the government must develop the will to bring about a change. China is committed to becoming a country with the purest air. The Chinese government has engaged 60,000 soldiers in planting saplings," said Maneet Dewan, president of "I'm an NGO".
"At the industrial level, the Chinese are now absorbing carbon. Large chimneys create a diamond every month by absorbing carbon from the environment," he said. Even if the air purifiers are being installed, these are large ones that cover a big radius and clean air at the community level, he added. Even on a small scale, instead of allowing commercialisation of the air pollution issue, air purification should be aimed at through conventional methods, such as planting more trees and having herbs and plants that absorb pollution, and promote indoor plants. "Pollution has assumed a mega proportion and tiny solutions will never work," he said.
Vijay Singla from Deekay Electronics said while air purifiers have been around for the past couple of years, product queries and sales had started happening only now because of enhanced awareness.
Use of these appliances at the individual level is going to push people further down the economic ladder, says Gurminderjit, a financial consultant. "Not only is pollution having an adverse impact on health but also pushing everyone down the economic ladder because of the rising cost of poor productivity, cost of ailments and medication, cost of affording appliances and the rising power bills because of the use of appliances, such as water filters and air purifiers. It is making living costlier and thus all the more difficult. An ailing population is the biggest liability for any society. The government should take counter steps to curb pollution, otherwise, it will face economic loss much bigger than the benefits of industrial growth or automobile sector," he said.
Top News
Congress has lodged an FIR against him by for peddling a fak...
Vivo is a Chinese smartphone-manufacturing company
Says wants to develop friendly policing in the state