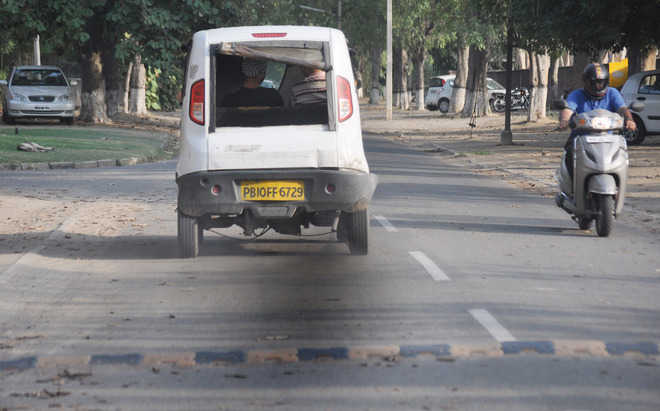 Naina Mishra
Tribune News Service
Ludhiana, June 5
The air quality of the city is deteriorating causing a threat to the residents. Vehicles with the Pollution Under Certificate (PUC) continue to emit smoke, thus, the purpose of making the PUC mandatory to curb pollution seems to have taken a back seat.
The diesel-run autos also ply on road despite ban, thus, affecting air quality.
Pedestrians and commuters can be seen covering their nose due to harmful chemicals released from vehicles. Vehicular pollution has increased manifold over the years, however, nothing tangible has been done so far.
What the rules say about the PUC
As per the Motor Vehicle Act, it is mandatory for all vehicles to obtain insurance. Without which, the owner may be liable for a stringent penalty, including imprisonment. The Supreme Court last year ruled that vehicle owners without the Pollution Under Control (PUC) certificate will not be able to renew the insurance of their vehicles, thus, linking the PUC with insurance was also important.
10,000 challans in a year, but no end to pollution:
According to the data provided by the district Traffic Police Department, a total of 10,199 vehicles were challaned for not carrying the PUC. In 2018, around 5,422 vehicles were challaned by the traffic authorities for violating the norms.
Naresh Kaler, motor vehicle inspector, Ludhiana, said, "There are many commercial vehicles in the city, but a very few come to us for the passing. I have passed not more than 300-400 three-wheelers. The rest are plying without the PUC certificate. The government should also keep an eye on pollution check centres as these issue the certificates without checking the fuel emission."
Diesel autos run despite ban:
Many neighbouring regions, including Chandigarh and New Delhi, have supplanted diesel-run autos with CNG, however, Ludhiana is yet to adopt the environment-friendly approach. Despite the 2009 HC ban on issuing permits to new diesel-run autos, the autos continue to ply on road. Sukhpal Brar, ADCP (traffic), said, "There is a ban on diesel-run autos and we challan such autos if we see them on roads."
---
Experts say
Ludhiana to have CNG stations soon
Pradeep Gupta, engineer at the Punjab Pollution Control Board (PPCB), said a study was being conducted by the Punjab Science and Technology to know what percentage of factors were contributing to air pollution in major cities of Punjab. He said: "Presently, three CNG stations have been worked out in the city. Two stations have already been approved. Our priority will be to remodel the three-wheelers into CNG autos."
'Metro project only a dream'
Badish Jindal, national chairman of the Federation of Association of Small Industries of India, said: "Vehicles having pollution certificates are in worst condition as the centres are issuing the PUC certificates blindly. Metro project was once planned in the city, but nothing productive has been done. Therefore, the alternative to public transport is three-wheelers, which are in a pitiable condition. There is no check on commercial vehicles in the city. The vehicular congestion is also on the rise. Besides, there is a huge corruption within the Traffic Police Department."