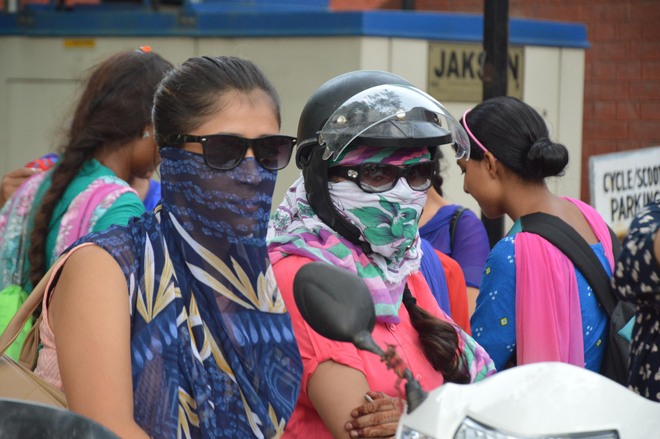 Gurvinder Singh
Tribune News Service
Ludhiana, August 20
Girls in the city said they were not comfortable with the ban orders issued by the Police Department, wherein they have been asked to commute without covering their faces.
Several girls said they cover their face to protect themselves from being stalked or followed. The ban should not be for females, a student said.
"This is how we avoid any kind of unnecessary nuisance. It is not a safe city for women and crime against women is increasing day by day," she said.
"When miscreants see any pretty girl commuting on two wheelers they start following," Niharika, a student, said.
"Covering face is the only way we can avoid being stalked or followed," she said.
"When we go out on scooters, boys click our pictures. Hence we cover our face," said Divya, another student. "If our faces are covered, we can at least avoid such troubles," she said.
"Not only do I cover my face, I rather wear a long ugly shirt over my dress to avoid attention of boys," she said.
"Boys sometimes follow us till our homes and we get a bad impression in the neighbourhood," rued another girl.
"Before passing such a ban for females, the government and the police must make the city safe for us," another student said.
Many people said they cover their face because of pollution. "Ludhiana is one of the most polluted cities in the world and covering the face is the only way of protecting from pollution while riding two wheelers," said Kajal, a first year student.
Top News
In Mizoram, Zoram People's Movement is locked in close race ...
According to Defence Ministry, 98 per cent of the total proc...
India has constituted a probe team to investigate allegation...
Nikhil Gupta, 52, has been charged with murder-for-hire in c...
GDP growth in the first quarter of current fiscal — April-Ju...