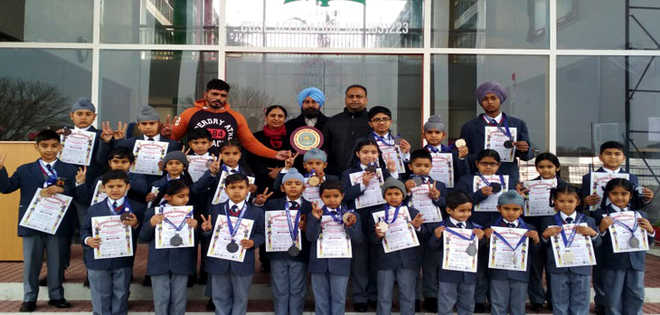 Ludhiana: The students of BBIS (Bal Bharti) proved their mettle in Inter-State Budokan Karate Championship 2019 held at Ludhiana. A team of 28 students participated in the championship and each one of them bagged position. The school lifted the overall trophy by winning Two gold, 10 silver and 16 bronze medals. Gurvansh Singh Aulakh of Grade 2nd and Prabhdeep Singh of Grade 1st were the stars of the day. The school management and Principal Mandeep Kaur congratulated the winners.
Workshop on Sexual Offences Act
A workshop was conducted on 'Protection of Children from Sexual Offences Act' on the school premises of Police DAV Public School, Police line, Civil Lines, on Thursday. The workshop was coordinated by Rekha Sharma from Police DAV Public School, Jalandhar. The workshop began with the ceremonial lamp lighting by the resource person, along with principal of the school. It was an interactive session in which many queries were discussed and analysed through different videos and slides showcasing the need to protect children. Through this session, the staff was fully apprised of the POCSO Act. The aim of the interactive session was to find the ways to overcome the ill-effects of child abuse. Principal Anu Verma highlighted the importance of conducting such workshops in the school as they are an eye opener. She emphasised that vigilance was the key to one's safety.
Int'l mother Language Day observed
To make the students aware about the linguistic diversity of the country, as well as the importance of mother tongue. International Mother Language Day was celebrated in the school which started with a special assembly consisting of the presentation depicting the same. The creation of the linguistic States highlighting the importance of mother language were the keywords in the speech delivered on this occasion. A multi lingual song was presented by the students of class VIII. Thought provoking placards served as the props were used to spread the message loud and clear.
BCM School, Chandigarh Road
The school celebrated Matribhasha Diwas in its campus to commemorate the International Mother Language Day - a day dedicated to promote awareness of linguistic and cultural diversity and to promote various other languages and culture of the nation. The history of Matribhasha Diwas was narrated during morning assembly. Students who belong to states other than Punjab visited the classes in their traditional dresses and made the students aware of how some common sentences were spoken in their respective mother tongue. TNS
Top Stories