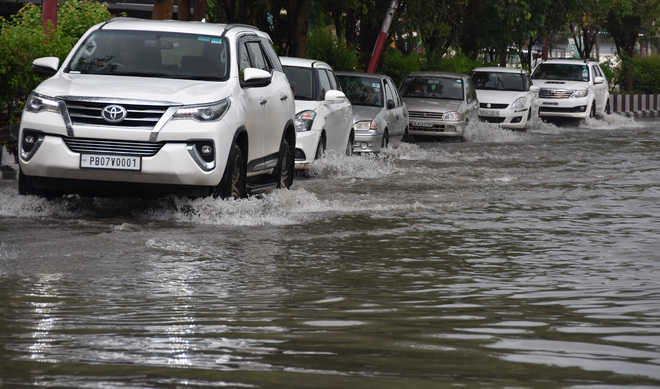 Kuldip Bhatia
Ludhiana, July 19
Waterlogging in most localities, not only in the old city but also in newly developed posh residential areas, during the rains has become so common here that nobody raises eyebrows while wading through ankle-deep or at times knee-deep water even after a brief spell of rain. Two-wheeler riders or motorists, whose vehicles break down on inundated roads and streets, also take the situation in their stride.
The fact remains that the city residents have a harrowing time during monsoon season, thanks to the lack of vision, apathy and poor planning on the part of the Municipal Corporation. With almost 90 per cent of the city localities having no storm water drainage system, rainwater flows into sewer lines through road gullies and the overflowing sewers further compound the problem when it rains.
Officials of the MC attribute waterlogging on the roads during the rainy season to inadequate sewer lines which get overloaded due to rainwater and the situation takes a turn for the worse if road gullies or sewer lines are already choked. However, what they do not say in so many words is the failure of the civic body to clean up open drains, road gullies and sewer lines well in time before the rains set in.
Not to mention the low-lying areas, old city localities and periphery such as Chaura Bazar, Kesar Ganj, Old GT Road (from railway station to old sabzi mandi), Bute Shah Mandi, Gokal Road, Dhandari, Dholewal Chowk, Transport Nagar, Focal Point and Domoria Pul, but the relatively modern localities like parts of Model Town, Dugri, Feroze Gandhi Market, Haibowal, Chander Nagar, Civil Lines, residential areas along Ferozepur Road and service lanes along almost all flyovers are inundated during rain causing immense misery to the residents.
The officials, albeit in private, admit that road-to-road carpeting and total lack of means for rainwater harvesting in the city have added to the problem of waterlogging as almost entire rainwater enters the sewer lines and puts additional pressure on grossly inadequate sewerage system.
"The worst part is that no immediate solution is in sight," say the officials as laying storm water drainage entails a mammoth capital expenditure which seems beyond even the imagination of the cash-strapped civic body.