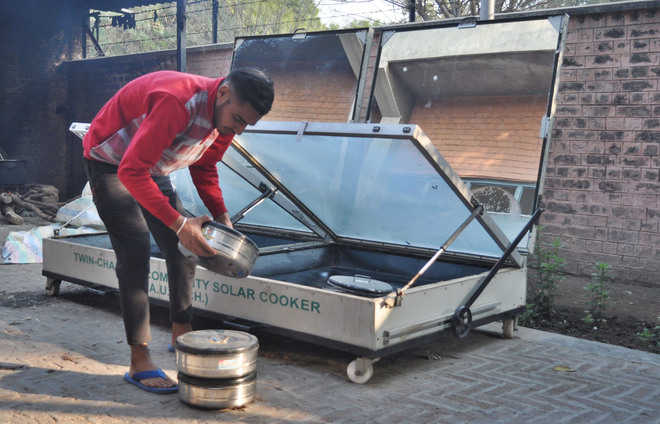 Gurvinder Singh
Tribune News Service
Ludhiana, January 10
While the use of solar cooker is taught, made and exhibited widely, the practical use of solar cookers has still not caught on. Now, experts have come up with 'community solar cookers' in order to help save cost of fuel and prevent global warming caused due to burning of fuel while cooking.
Though solar cookers are common, in order to make it more practical for community-level cooking, agri-engineers at the PAU have developed larger and more advanced model of the traditional solar cooker.
Speaking about the model developed at PAU, Dr VP Sethi, Head of the Department of the Mechanical Engineering at the varsity said community solar cookers can help save fuel as well as the cost in a big way. "These can easily cook around 7 kg rice or 5 kg pulses daily," he says. Showing a model that was 7X 3.5 ft, it can easily accommodate around 18 vessels having different food items," he says.
It has two chambers instead of just one. "Because some food items can cook much faster than the others, we have made two chambers so that the heat doesn't escape when the lid is opened for taking out the food items that cook faster," Dr Sethi said.
In fact, it can be especially useful when adopted by neighbourhoods at community level, at religious places and hostels where community cooking is generally done.
It saves on the expenses of LPG, but it can especially be useful in rural areas also as it saves wood or cow dung fuel also, he says. It helps to prevent global warming as over 2,000 kg of carbon dioxide emissions a year made through LPG cooking, he says.