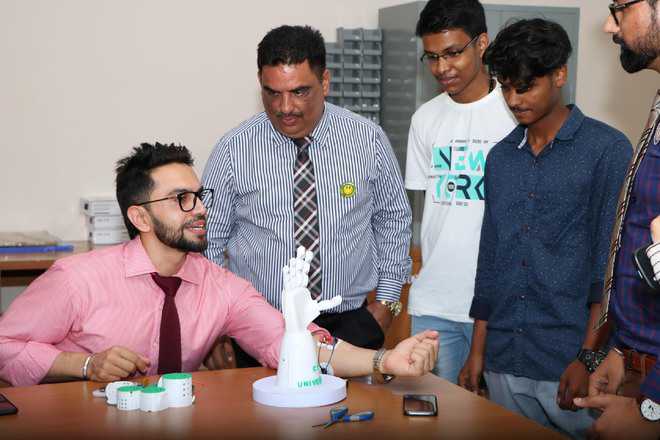 Tribune News Service
Ludhiana, August 22
Under its recently inaugurated robotics and automation lab, students and faculty of CT University have come up with another successful project—Prosthetic Hand. A trio of students, namely Batina Jennifer and Christamber True Man from department of robotics and automation; and Umar Ali Bilal from BTech, are behind this successful project.
The trio started off with 3-D printing the whole hand by using servo motor to control all fingers of the hand. Elaborating further, Batina Jennifer said: "The whole hand was 3-D printed using the Creality Ender 3 printer with PLA filament as the material. After the mechanical assembly of the prosthetic hand, we used an EMG sensor that senses muscle response or electrical activity in response to a nerve's stimulation of the muscle. It means that when an amputee wants to open and close the hand, the EMG sensor detects the muscle movement and sends the signal to the controller. The servo motors which are connected to the controller moves accordingly to the signal sensed by the EMG sensor."
Harmeet Singh, Assistant Professor, while talking about the advance techniques used to make the hand, said: "The prosthetic hand allows the amputee to hold and release any object in a fluent manner. The future developments include artificial fingers and inbuilt sensors in the hand that will allow an amputee to sense when they hold and release any object."
Harsh Sadawarti, Vice-Chancellor, CTU, said: "The loss of a limb is a traumatic event and this is particularly evident in the case of a hand amputation as well. Keeping this in mind, the students built a prosthetic hand that can be made available to every amputee. This project is a great step in the field of medical developments." Manbir Singh, managing director of the university, appreciated the efforts of the students and wished them luck for their future endeavours.
Top News
The Sukhoi-30 and Mirage 2000 aircraft had taken off from th...
The hearing begins hours after 'sources' in New Delhi say In...
The Congress on Friday had alleged that police arrangements ...
6 sitting MLAs lose tickets, Minister Ramprasad Pal's ticket...
Resplendent gardens will be open for public from January 31