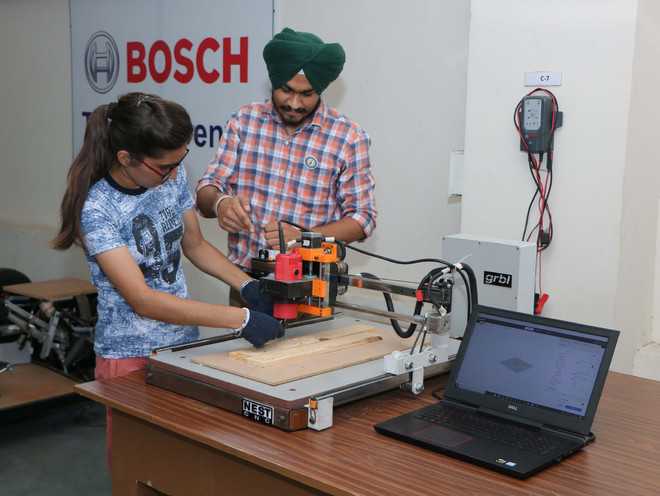 Tribune News Service
Ludhiana, July 19
CT University (CTU) under the department of RICE - Research and Innovation Centre for Excellence has designed and developed a Precision Light application CNC (Computer Numeric Control) Milling Machine. This is yet another successful best-out-of-waste project.
The complete machine is manufactured using low cost and easily available raw material. It is designed and developed by students namely Gurjot Singh of Bachelors in Interior Designing, Gurpreet Kaur of B Tech. (Mechanical Engineering) and Kiran Reddy of B tech CSE (Artificial Intelligence).
The major purpose of this machine is its infinite application in engineering and technology, architecture, interior designing, dental and medical sciences. It can manufacture aluminium dyes for injection moulding as well.
Elaborating about the making of this product, Gurpreet Kaur,one of the students said, "The machine runs on AVR controller and powered by NEMA 17 Precision Stepper Motors using belt drive and lead screws. It has a bed size of 700 x 400 x 100 MM. The overall cost of the machine is Rs 25,000 only which can manufacture 2D and 3D complex shaped parts."
Jaspreet Singh, R&D Engineer, said, "The machine is developed under start-up idea NEST which has also bagged third position in Start-up India Punjab Yatra, Business Idea Competition.