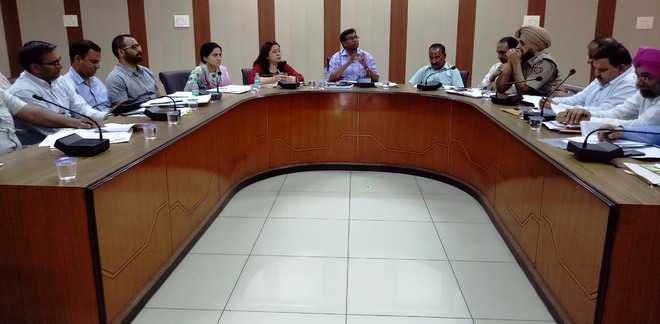 Tribune News Service,
Ludhiana, March 27
The Deputy Commissioner (DC), Pradeep Agrawal, on Tuesday, directed all Sub-Divisional Magistrates (SDMs) and heads of all procurement agencies to ensure smooth and hassle-free procurement of wheat in coming procurement season which is set to start from April 1 in all 104-grain markets.
Agrawal told the officials to supervise the procurement operations across the district personally to make sure prompt lifting of wheat as per their allotted share of procurement. He said farmers in the district should not be put in any inconvenience for sale of their produces in the markets.
He instructed all agencies to depute the required staff in all grain markets district at the earliest. He also asked the SDMs that names and mobile numbers of auction recorders, agency inspectors and heads of complaint cells should be displayed in all the grain markets prominently.
The DC was apprised of the elaborate arrangements that were made for the expected arrival of about 8.67 lakh metric ton of wheat this year. Around 2.52 lakh hectare was covered under the wheat crop in the district. Further, he was also explained that around 29,000 bales of gunny bags have already been reached into the district and remaining would come within few days.
He asked the Mandi Board officials to ensure the arrangements of drinking water, toilets, tarpaulins, requisite arrangements for electricity, sheds for the farmers, portable water supply, and moisture meters to monitor the moisture content.
The DC further told the officials and representatives of Ahrtiyas Association to educate the farmers to harvest their crop only on right time and bring the dry and clean crop in the grain markets so that they do not face any problem in selling their crop. He also asked the Health Department to take samples of water from the grain markets so that clean drinking water can be provided to the farmers and labourers in the markets.
On this occasion, Additional Deputy Commissioner (ADC) (G) Iqbal Singh Sandhu, Jagraon Jagraon, Neeru Katyal Gupta, all SDMs, heads of Food Supply Department, Mandi Office, officials from Pungrain, Markfed, Punsup, Warehouse, Punjab Agro, FCI and representatives from Ahrtiyas Association, Farmer Union and Transporters' body were also present.
Top News
The Sukhoi-30 and Mirage 2000 aircraft had taken off from th...
The hearing begins hours after 'sources' in New Delhi say In...
The Congress on Friday had alleged that police arrangements ...
His letter to Shah comes after the Yatra is suspended for th...
6 sitting MLAs lose tickets, Minister Ramprasad Pal's ticket...