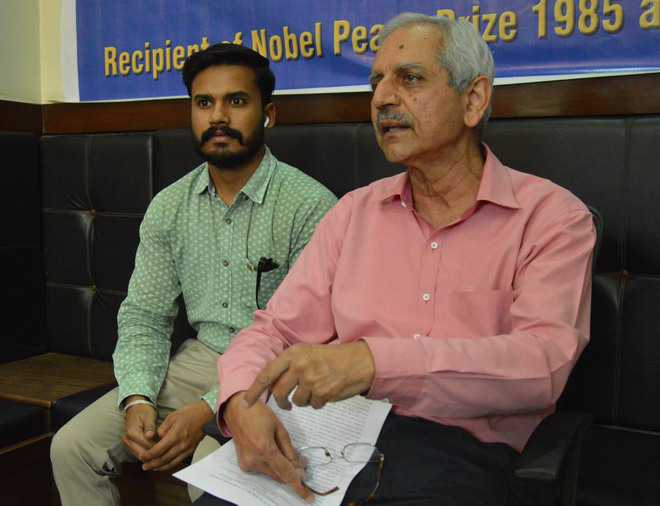 Tribune News Service
Ludhiana, October 11
Healthcare is a basic right of every citizen. Under no circumstances, it should become victim. There have been several reports about healthcare problems in the Kashmir Valley after imposition of curbs on August 5.
After reading these in a press meet, Dr Arun Mitra, co-president, International Physicians for the Prevention of Nuclear War (IPPNW), and senior vice-president, Indian Doctors for Peace and Development (IDPD), visited the Valley to assess the healthcare situation.
"Some doctors belonging to the Alliance of Doctors for Ethical Healthcare (ADEH) had requested the government to facilitate their visit to the Valley to assess healthcare situation, but it is unfortunate that they did not receive any response. The issue was highlighted after Dr Omar, a urologist, was detained when he requested for removal of curbs on the movement of doctors and patients, and ensure supply of medical equipment needed for dialysis and other problems," said Dr Arun Mitra.
"After visiting the Valley, it was known that the psychological problems are plenty and are going to take a toll on society in times to come. People are living under extreme stress with a defeatist feeling. They fear talking about their feelings to anyone. There is a total lack of trust. Children have not been attending schools for more than 70 days and are asking the reason for the same from their parents," he said.
He added that there was a difficulty in making contact with the doctor. In the event of emergency, patients are not being able to call their doctor because of absence of telecommunication services. Only landlines are working and that too erratically, he said.
There is a problem of supply of drugs, particularly the anti-cancer and anti-diabetic drugs, he added.
In the absence of internet, placing order for supply of drugs and medical equipment is very difficult, Dr Arun said.
Top News
Overseas ramifications as Boris Johnson's brother quits link...
Both Houses adjourned for the day amid uproar over Adani iss...
DGP said Arif was being handled by a Pak-based LeT terrorist...
CM Kejriwal says all the cases filed by ED are fake and they...
IPS officer has been accused of corruption and misconduct du...