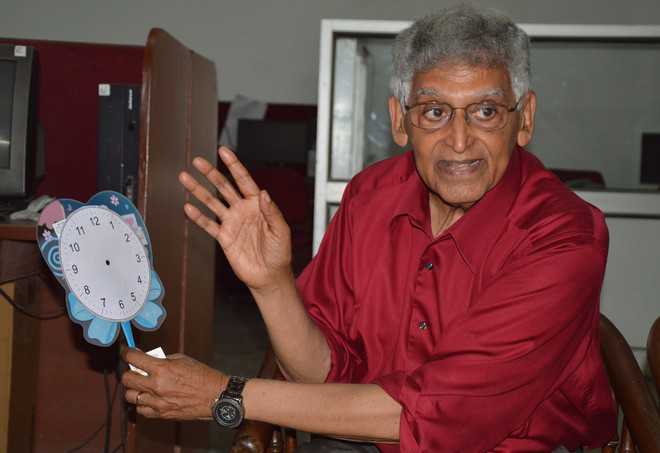 Manav Mander
Tribune News Service
Ludhiana, July 17
Former principal of Christian Medical College and Hospital (CMCH) Dr Alex Zachariah, who has settled in the US, is in his native land again to help drug-addicts in their rehabilitation. The facts and figures about drug addiction in his motherland have disturbed him to such an extent that he has now decided to regularly visit India. He has developed a technique, "kabaddi yoga", to help drug addicts avoid relapsing.
He has been visiting drug de-addiction centres run by the Red Cross Society at Gurdaspur, Patiala, Nawanshahr and Khanpur, near Kharar. He shares the technique of 'kabaddi yoga' with inmates. He recently visited the Red Cross de-addiction centre in Bathinda and Ludhiana.
Dr Zachariah has also developed an app on "kabaddi yoga". He said: "Yoga in Sanskrit means united. Kabaddi is an Indian sport where players do sporting activity in single breath as they audibly utter 'kabaddi, kabaddi, kabaddi..". In kabaddi yoga, four activities are united in one breath. I have developed a flag (with numbers) for those who cannot download the app, so that they can do this breathing activity properly. All four activities can be put together into acronym MBBS. "M" stands for moving head clockwise and counter-clockwise with eyes fixed on one spot, "B" for breathing out, second "B" for blessing and speaking positive words or phrases as one breathes out and meditate those words in one breath and "S" stands for smile as one speaks".
The mind and eyes of drug addicts wander. They can do this activity with the flag which helps them fix their eyes on one thing. It should be done four times an hour, he said.
Dr Zachariah said his heart really ached to see the state of affairs at Civil Hospital, Bathinda. "There is a hospital with all facilities for rehabilitation of drug addicts but no patients. The reason being they have to pay for the treatment," he adds.
Dr Zachariah, who has served the CMCH for 40 years, originally belongs to Kerala. The present situation in the state is worse than period of militancy, and he calls it 'drug terrorism'.
"Punjab is once again getting destroyed. I could not hold myself back and have come here to make an effort. In India, there is a golden triangle formed by Punjab, Kerala and North East. This golden triangle reflects that Punjab is at the first position, followed by Kerala at Number 2 and North-East at the Number 3 position in drug abuse," he adds. Talking about drug abuse in the US, he said overdose of prescription drugs was killing people there.
Recently, he conducted a meeting with the Rajguru Nagar Senior Citizens Welfare Association and discussed with them his initiative.
A research under way
Dr BS Sidhu, Professor and Head of Psychiatry, Rajindra Medical College, Patiala, is doing a scientific research on "kabaddi yoga". The clinical research is being done in association with Saket Red Cross De-addiction Centre. "We will be testing the accuracy of the technique on a group of 20 drug addicts and later on, it will be tested on a large scale in other districts," said Dr Sidhu.
Rehabilitation centres benefited
Dr CS Talwar, secretary of the Indian Red Cross Society of Punjab, was all praise for work being done by Dr Zachariah. He said they were using the technique of "kabaddi yoga" at rehabilitation centres. Feedback from drug abusers was taken and the initial report had come out good. His technique is an amalgamation of yoga and psychology. "He went to Chicago from Ludhiana but always kept Punjab in his mind," says Dr Talwar.
Top News
Bajrang, Sakshi meet Sports Minister | Get assurance on all ...
Global leader TKMS to offer tech, Mazagon Dock to manufactur...
7 of 9 accused on run; Losing hope, say kin