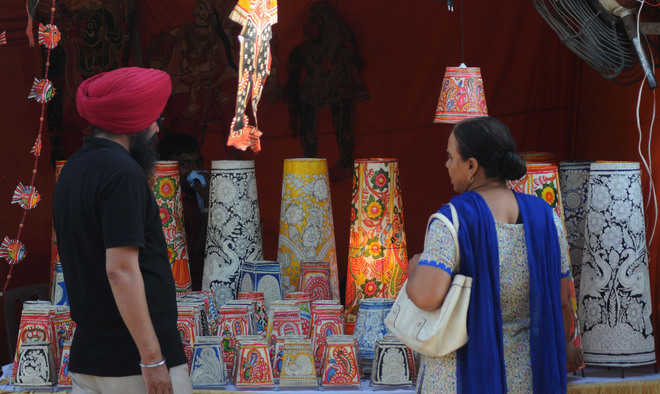 Gurvinder Singh
Tribune News Service
Ludhiana, October 8
What piqued the interest of visitors at Saras Mela were rings and bracelets made of 'elephant hair' — that, too, from the tail of African elephants.
While elephant hair might not be of much interest to people living in the north, jewellery made from elephants' hair is quite popular in the South, say sellers having stalls selling bracelets and rings made from the hair of elephant tail at Saras Mela.
Sanjay Kumar, who has come from Neelambari Ayurved, a self-help group that has come to exhibit elephant hair jewellery from Ramnagar district of Karnataka, says jewellery using hair from elephant tails is being made by his family and artisans from generations. "It is believed that elephant hair is supposed to protect from evil and prevent nightmares. Hence, it is much sought after in those areas," he said.
Around 1 mm thick hair resembles a black wire. "The hair is imported from Cameroon in Africa. One member of our self-help group brings elephant hair from African countries. One can bring around 30-kg of such hair," he said. The length of elephant hair is around 1.5 feet to 2 feet, which can be used for making two bracelets, he said.
He said they used to make such jewellery from the hair of Indian elephants earlier, but were not doing so for the last three years. "Apart from strict regulations of the government, it is no longer viable because the length and thickness of the Indian elephant hair is no longer the same. It is much thin and short now," he said.
Saundarya, another member of the group, said she has been wearing this for long as it is combined with copper and gives an interesting look to the piece of jewellery.
---
Leather lamps light up faces at the fair
White leather lamps are catching the attention of visitors at Saras Mela. These are in fact made of leather and villagers from Andhra Pradesh are using this tradition for generations together.
K Srinivas says he learnt the art from his grandfather and father and now, his children were also engaged in the same. They run a self-help group called Hirmata in Dharmavaran city of Anantapur district of Andhra Pradesh. As compared to paper or cloth lamp, these leather lamps made from goat leather can last for 50 years, he claims. Even 'leather kalamkari' used on the lamps doesn't fade and remains as it is, he said. "The only thing to protect these from is water. Otherwise, these can last for decades together," he said. He said they also make puppets from leather. These are light and used for telling traditional tales. His grandfather Kulaiappa has even won the Andhra Pradesh state award for this art. A couple of such puppets made by him are even displayed at an art museum in Delhi, Srinivas said. Earlier, they used to make lampshades only, but now, they have added variety and make 12 different kinds of lamps. "We have added different sizes and types - from hanging lamps to floor lamps. We are making traditional lampshades for years, but those could not be brought here due to logistics issues. I am participating at an exhibition in the city for the first time. We got good response from Chandigarh and Delhi, where I have exhibited these lamps earlier," he said.
Top News
Party observer Ajay Maken accuses MLAs in Gehlot camp of 'in...
'No hand in crisis but doors not closed for Sachin Pilot', s...
Contained fake news and morphed content with the intent to s...
IFS officer accused of taking illicit money in lieu of passi...
The water flow above 2.5 lakh cusecs is considered high floo...