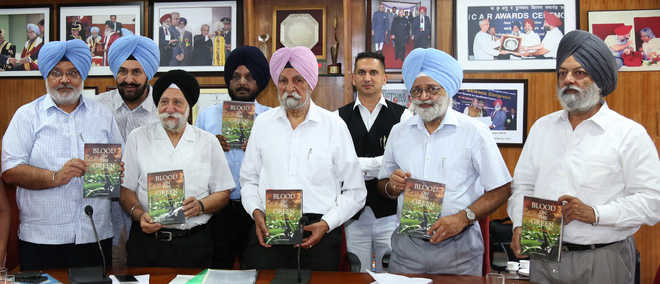 Tribune News Service
Ludhiana, May 26
Eminent litterateur gathered at Punjab Agricultural University (PAU) today, for the presentation ceremony of the latest book 'Blood on the Green- Punjab's Tryst with Terror,' penned by PPS Gill, former journalist and former State Information Commissioner.
The book is a reporter's odyssey, spanning over three decades. It presents author's perceptions about key issues concerning political, religious, social, economic, caste conflicts and agrarian crisis in Punjab. It may be mentioned that the author, Gill has also served as Additional Director Communication at PAU.
The Chief Guest, Dr SS Johl, Chancellor, Central University of Punjab, Bathinda, said, "The book is a historical document. It is on record. I wanted a journalist like him to write this book."
Dr BS Dhillon, Vice-Chancellor, PAU, who presided over the ceremony, said the book presents a deep insight into the history of Punjab. He congratulated Gill for penning down this book. The Guest of Honour, Dr SP Singh, former Vice-Chancellor, Guru Nanak Dev University, Amritsar, said the book presents the true picture of Punjab.
The key speaker, Dr Manmohan Singh, a recipient of Bharti Sahit Academy Award, said the book throws light on the journalistic career of Gill, who is a direct witness to all the happenings in Punjab. "This book is entirely different and articulate. All the issues have been dealt with sensibility. It starts with William Butler Yeats, an Irish poet and ends with Robert Frost, an American poet."
Gurbhajan Singh Gill, Former President, Punjabi Sahit Akademi, while giving a brief introduction of Gill, said the book presents the picture of the odd times faced in Punjab. It is being translated into Punjabi so that maximum readers could read it, he added.
PPS Gill expressed his gratitude to PAU for holding the ceremony. About his book, he said, "It is a recollection of images, reflections and remembrances of journalistic adventures. The story-telling is episodic." Later, he presented the book to Dr Johl and Dr Dhillon.
Dr Jagdish Kaur, Additional Director Communication, PAU, conducted the programme.
Top News
Says one of the Bills seeks to give representation in Assemb...
Among the 10 who put in their papers are nine Lok Sabha MPs,...
Resignation of Union ministers also revived speculation of r...
The withdrawal of statement by MP Senthil came when the Hous...
The Punjab DGP office had written a letter to Rajashthan Pol...