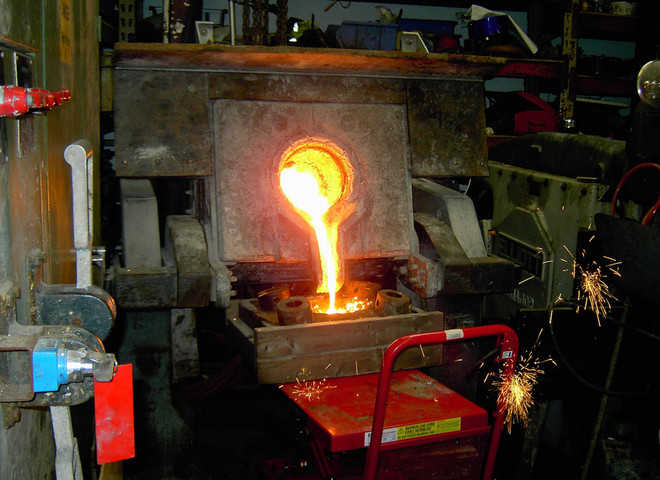 Tribune News Service
Ludhiana, July 10
Since last two years the steel manufacturing and consuming industry is in big trouble due to fluctuation of steel prices in the country. The average steel fluctuation in China is less than 0.1 per cent whereas in India the average daily fluctuation is 1 per cent to 2 per cent, which is on a higher side.
Raising concern, Federation of Punjab Small Industries Association (FOPSIA) has written to Dharmendra Pradhan, Union Minister of Steel, Government of India, New Delhi, to look into the matter and take corrective steps.
Elaborating in the letter, the FOPSIA president, Badish Jindal, said earlier a "cartel" was managing the prices of steel by issuing daily SMS alerts. Secondary steel companies were forced to maintain their prices as per the SMS, he added. This created a huge gap in prices of primary and secondary material, he said.
To control the situation, owners of the secondary steel companies raised their voice against the SMS cartel, which was finally stopped with the help of police and judiciary, he said.
Now, many other future commodity exchanges are issuing daily steel prices on the apps, he said. They issue prices for main three secondary steel producing cities, including Gobindgarh, Ghaziabad and Raipur, he added.
In last one month, they showed fluctuations in the prices upto 15 per cent, he said. "They keep the price as per their profit making tendency as they book steel in advance on higher prices and bring down its prices near supply dates. Their daily fluctuation in steel is from 1 to 3 per cent, which means around Rs 400 to Rs 1,200 per metric tonnes per day," Jindal stated in the letter.
"The secondary steel companies in India are forced to keep their prices as per the daily index prices of these commodity exchanges. So, they have reduced steel prices to around Rs 4,000 per metric tonnes during last one month," he said.
"Whereas the primary steel companies announce their prices as per the decision of Indian Steel Alliance (Association of big primary steel plants)," he said.
"Even today the difference between primary and secondary steel is more than Rs 7,000, which is around 20 per cent of the steel cost. This is badly affecting the steel manufacturing and steel consuming industries," he added.
"The steel sector is already in red category and its huge losses will increase trouble for banks, revenue and steel consumers," said FOPSIA.
Top Stories