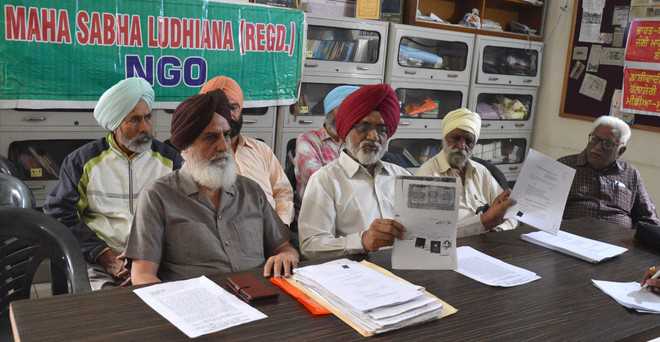 Our Correspondent
Ludhiana, November 11
A local court has summoned SAD leader Harpreet Singh Bedi, his wife and former SAD councillor Veera Bedi, and his mother Surjit Kaur to face trial for forgery, getting bank loan on the basis of fabricated documents, encroaching upon government land with forged documents and criminal conspiracy.
Addressing a news conference here, Lieut-Col Jagdish Singh Brar, president of the city-based NGO Maha Sabha, which is the petitioner in the suit, said the court of Shri Jaswinder Pal, Judicial Magistrate Class I, Ludhiana vide its orders made on September 30 had summoned Harpreet Singh Bedi, Veera Bedi and Surjit Kaur to appear before the court on November 18 to stand trial in the case under Sections 467/468/471/120-B of the IPC.
Giving details, Brar said the SAD leader had allegedly forged a title deed to encroach upon government land, adjacent to the cremation ground in Sunet village and had also obtained a loan from a bank on the basis of forged and fabricated documents.
Godown row
"A godown was constructed by the Bedi family on the land under the ownership of Municipal Corporation which was identified by demarcation of the land ordered by the Deputy Commissioner on the directions of the Punjab and Haryana High Court. The Municipal Corporation had removed the encroachment and a part of the construction raised on government land was demolished," he said, adding that the politically connected family had managed to evade follow-up action by the police which had forced the NGO to knock at the door of judiciary.
Brar produced a copy of the court orders issued by Judicial Magistrate (Class I) Jaswinder Pal in which the relevant portions said: "After appreciating the oral as well as documentary evidence placed on judicial file, this court is of the considered view that there are sufficient grounds to summon the accused nos. 1, 2 and 3 (Harpreet Singh Bedi, Veera Bedi and Surjit Kaur) under sections 467/468/471/120-B of the IPC. Accordingly, the accused are ordered to be summoned to face trial for offences punishable under these sections on November 18.