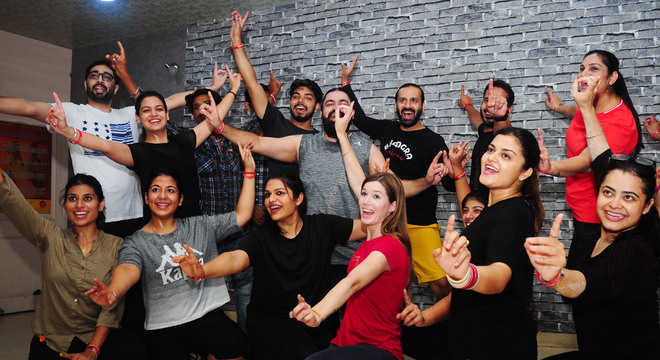 Naina Mishra
Tribune News Service
Ludhiana, July 22
Denmark-based Christine Meier, popularly known as the 'Bhangra Queen', whose passion towards Punjabi folk dance made her travel to India for the first time in 2013, is a constant traveller to Punjab.
A sensation on YouTube, Meier was in city for a bhangra workshop organised by Ecstasy The Dance Studio on Sunday. Meier has been doing bhangra for five years now. Her movements, synchronisation and vibe is no different than any Punjabi. She sings 'Hoye Hoye' while dancing with utter zeal just like any other Punjabi.
Meier shares: "I coincidentally watched bhangra dance videos on YouTube and was awestruck. The rhythm of bhangra is enticing and I just couldn't stop myself from exploring it further. I also learnt ballroom dancing and belly dancing, but the zeal was always missing. I am very much fond of Punjabi folk. Everything about the culture makes me happy, be it Punjabi people or the dance. You tend to enjoy yourself when you are in a happy place."
"I stayed in Chandigarh for some time and I am grateful to the love people showered upon me. I can count on my friends I made here. I know they will be a phone call away and it is a small thing, but that's what matters right?" she adds.
Meier is also teaching bhangra to people in Denmark. She says: "Danish people love bhangra, though they cannot understand the language. What is this music I am always asked, as it makes them dance, too! I have always wished for a closely knit multicultural society that we are not."
She started her own company 'Bhangra by Christine' in 2016 and since then, there has been no looking back.
Top News
India make historic 1-2 finish in triple jump | Women's hock...
Telangana Chief Minister K C Rao boycotts meeting, while Bih...
A red-letter day for the Indian shipbuilding industry, said ...
SSLV had lifted off from Sriharikota spaceport on Sunday mor...
Mandeep Kaur, who was tortured at the hands of her husband, ...