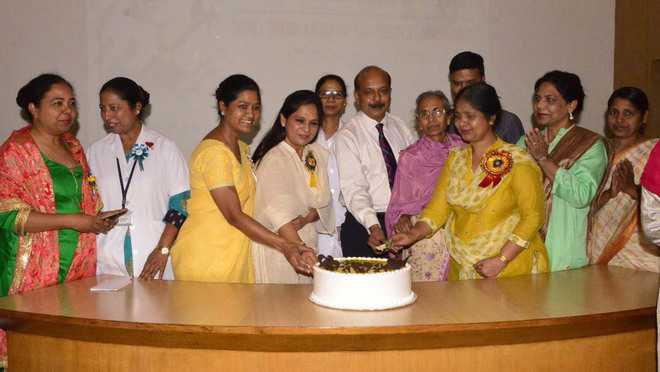 Tribune News Service
Ludhiana, May 12
Nurses Day was celebrated at various hospitals and medical institutions across the city. Units of Trained Nurses Association (TNAI) and Student Nurses' Association (SNA) of the College of Nursing, Christian Medical College and Hospital (CMCH), organised celebrations on the theme "Nurses: A voice to lead – Health is a human right".
Madhu Gupta, chief corporate social responsibility, Trident Group, was the chief guest on the occasion. Speaking on the occason she appreciated nurses for their hard work, which they did for patients.
Dr Reena Jairus, acting Principal, College of Nursing, emphasised that nurses were considered as role models, kind hearted and caring people, who promote healing and provide compassionate care to patients.
Dr William Bhatti, director, CMC Hospital, also encouraged nurses and laid emphasis on their role. Balqis Victor, president, TNAI local branch, CMCH unit, unfolded the theme. She talked about the role of nurse in meeting the health needs of every human being. A panel discussion was organised on the theme.
The International Nurses Week was celebrated from May 6 to 12 during which activities were planned by the TNAI and SNA local units at the CMCH. Activities were conducted during the week under guidance of the faculty of the College of Nursing, CMCH.
Procedure demonstration on neonatal resuscitation was held on May 7 by the Child Health Nursing and Ambulance Mobike and Rescue Services (AMARS) Department. Workshop on leadership and a panel discussion was also organised on May 8 at the CMCH.
A quiz on drugs and instruments used in obstetrics and gynaecological nursing was held on May 10. A quiz from nursing foundations subject titled "Inquisitive" was held on May 11. A poster exhibition was organised by TNAI members on May 12. Ginni, Sonia Banga and Rajan Mall bagged first, second and third prizes, respectively, in the exhibition. The Private Medical Ward of the CMCH was bagged the best ward title. Prizes were also given to the winners at the CMCH.
Serve ailing patients with dedication
Various functions were held at Dayanand Medical College and Hospital (DMCH) to mark Nurses Day. In her message, nursing superintendent, Prof Meenakshi Pereira, exhorted nurses to serve ailing patients with dedication and commitment.
Students participate actively in competitions
College of Nursing at Malakpur also celebrated International Nurses Day. Students and faculty of the college participated actively in debate, pot painting, poster and rangoli making, welcome dance, choreography, best out of waste and photography competitions held on May 10 and 11. A seminar based on the theme of the day was organised for nursing students.
Certificate, mementoes for those who excelled
A function was held at the newly-built seminar room of the Hero DMC Heart Institute, which was presided over by secretary of the Dayanand Medical College and Hospital managing society, Prem Kumar Gupta, along with chief cardiologist Dr G S Wander.
The 'certificate of appreciation' along with mementoes were awarded to nurses and paramedical staff, who had done exceptionally well in their respective fields.
Biggest profession in healthcare sector
Nurses Day was celebrated at at Aykai Hospital premises. "Nurses, a voice to lead —Health is a human right" was the theme of International Nurses Day celebrations. On the occasion director, Aykai Hospital, appreciated all nurses for their services to patients. He said nursing was the largest healthcare profession in the world.
"Nurses are the key of achieving the millennium development goals (MDG)," he added.
May 12 holds significance
The International Nurses Day is celebrated around the world by the International Council of Nurses (ICN) annually on Florence Nightingale's birth anniversary. The motive behind celebrations is to mark contributions nurses make to society. Florence Nightingale, the foundational philosopher of the modern nursing, was born on May 12, 1820. The date has a very strong significance being the birthday of perhaps, the world's most famous nurse Florence Nightingale. Each year, the ICN prepares and distributes the International Nurses' Day kit, which contains educational and public information material for use by nurses everywhere.