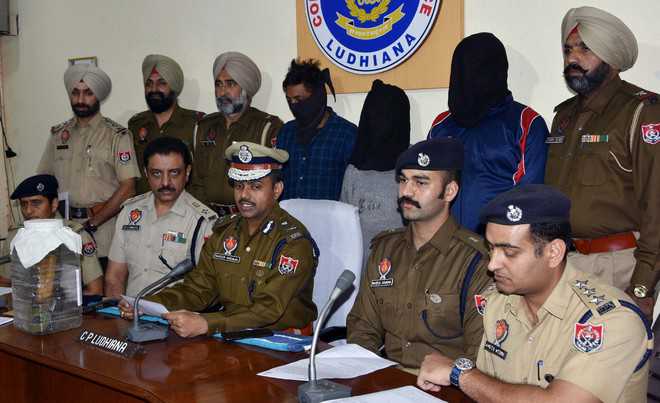 Nikhil Bhardwaj
Tribune News Service
Ludhiana, November 13
Almost 11 days after car-borne thieves uprooted and took away an ATM of the SBI branch in Pakhowal, the Ludhiana police today arrested three of the gang members today. The ATM contained Rs 23 lakh in cash, which is yet to be recovered by the police. The ATM is in possession of other gang members, who are at large.
The arrested suspects have been identified as Deepak, alias Deepu, of Barota, Shimlapuri, Ajay Kumar Babbal of Ferozepur, and Deepak Kumar Billa of Jawahar Nagar, Ludhiana.
The police recovered one sharp weapon and an electrical cutter form them. Gang members, who are at large have been identified as Sukhwinder Singh Moni of Jawahar camp (kingpin), Amrit Meetu, nephew of Moni, Gattu of Iyali, Sonu Pinna, Rakesh Kumar and Gurjant Singh, all three of Ferozepur.
Police Commissioner (CP) Rakesh Agrawal, DCP SS Dhindsa, ADCP (Investigation) Harish Dayama, ADCP Gurpreet Purewal, ACP Sameer Verma and the PAU SHO, Parampal Singh, briefed mediapersons at conference regarding the arrest of thieves here today.
The CP said on the intervening night of November 1 and 2, the suspects had first cut shutter of the ATM kiosk with a gas cutter, uprooted the ATM by rolling a rope around it and then giving a jerk with the Swift car. They then loaded the ATM in their car and fled.
Kingpin Sukhwinder Moni behind theft
Kingpin Sukhwinder Moni, who along with his other gang members had committed a robbery at Punjab National Bank (PNB), Kochar Market, on August 1, 2016, stole the SBI ATM with his accomplices. The police intelligence shifted the needle of suspicion towards Moni and his gang members. When the police rounded up three of his aides, they confessed to have committed the ATM theft, CP Agrawal said. When asked about the recovery of Rs 23 lakh cash in the ATM, the CP said, "The ATM is in possession of kingpin Moni. Once he is arrested only then Rs 23 lakh cash and the ATM can be recovered."