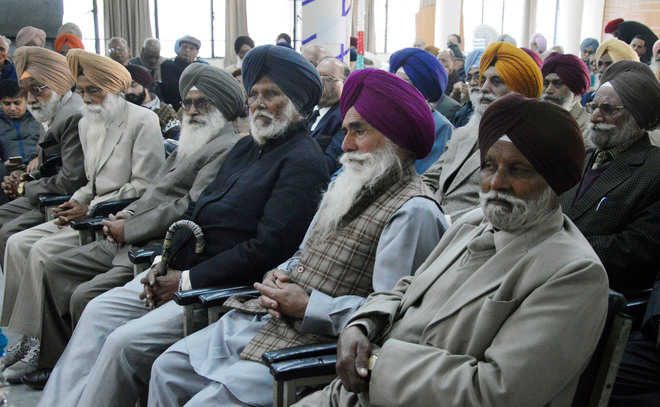 Tribune News Service
Ludhiana, December 18
The Pensioners' Information Centre Management Committee, Ludhiana, celebrated the 36th pensioners' day at the Punjab Pensioners' Bhawan here on Sunday.
The event was presided over by Pranay Ranjan Dwivedi, Deputy General Manager, State Bank of India, Ludhiana.
VK Khanna, Chairman of the Pensioners Information Centre Management Committee, welcomed the chief guest by presenting him a bouquet, shawl and momento. Besides, senior officials of the SBI who accompanied the DGM were also honoured.
Khanna said the golden era of the pensioners had started in 1982 when the Supreme Court had pronounced a judgment in their favour. However, despite high level increase in the prices of essential commodities, the state government had turned a blind eye to the demands of the retirees, he said.
"What to speak of pensioners, healthcare expenses are out of the reach of the common man. What a joke that outdoor medical allowance is Rs 500 per month whereas it must not be less than Rs 2,000 per month," said Khanna.
He said: "The state government has not yet released the arrears of 23 months. Besides, dearness relief from January to July 2017 announced by the Centre and many state governments are still to be given by the Punjab government. The Central Government has already implemented the 7th pay commission, whereas the 6th pay commission of the Punjab Government is yet to start functioning."
Prominent among the speakers were Col HS Kalhon, Dalip Singh, DS Ladla, JS Dhillon and Susheel Kumar.