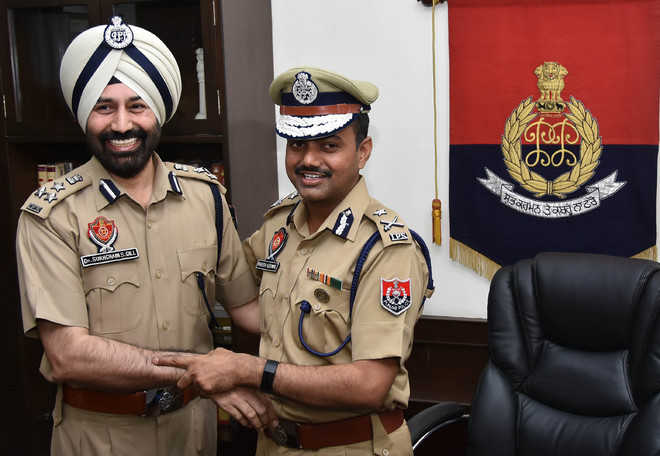 editorial@tribune.com
Nikhil Bhardwaj
Tribune News Service
Ludhiana, September 10
If any policeman of the Ludhiana Police Commissionerate is found conniving with drug smugglers, he or she will have to face the music immediately, said Rakesh Agrawal, who joined as Commissioner of Police, Ludhiana, today. He replaces Dr Sukhchain Singh Gill who has been transferred as Police Commissioner of Amritsar.
Agrawal, who was IG Special Protection Unit, assumed charge here in the presence of Dr Gill.
"My priority will be to make the city drug-free. Every possible effort will be made to totally shut the drug business, if any, running here. If any policeman of any rank is found conniving with the drug smugglers, he/she will not be spared and immediate disciplinary action will be taken. I have zero tolerance for drug smuggling," said Agrawal while talking to The Tribune.
He said SHOs being head of the police stations must understand that no drug network should run within their jurisdiction and if any agency caught drug peddlers in their area, then the responsibility of SHOs would be fixed.
On the unfriendly atmosphere at the police stations, the CP said the police should consider public as their friend. He would prepare a plan to resume police-public meetings to hear the grievances of the public and to get the ground report on policing.
With regard to crime detection, the CP said officers would be tasked in such a way that they could give maximum output and detect crime in minimum possible time, adding that investigation into old heinous crime cases would be intensified. "We will make maximum use of new technology to detect crime. The defunct CCTV cameras will be repaired. I think CCTV cameras are friends of the police," said Agrawal.
Replying to a query on minimal presence of the police on roads during the night, the CP said a special plan for night patrolling will be prepared so that people living in the industrial hub could feel safe.
Agrawal also cleared that all projects initiated by Dr Gill would continued to run.
Top heavy dept
After the recent transfers, Ludhiana now has seven more officers in the top rung and providing them with necessary infrastructure such as offices and staff is going to be a big task. Ludhiana Commissionerate now has 25 ACPs, who are one rank superior to SHOs, nine ADCPs and six DCPs. While the department has 4,500-odd staff, 28 police stations always complain of shortage. Providing newly shifted officers with staff will add to the crunch at the police stations.
16 CPs since 2010, Gill has maximum tenure
Since 2010, when the police commissionerate system was launched in Ludhiana, the industrial town has seen 16 police commissioners assuming charge. Dr Sukhchain Singh Gill was the 15th CP to join here.
Ishwar Singh (2010) 1 year 5 months
SS Chauhan (2011) 6 months
Ishwar Chandar (2011) 2 months, 23 days
Ishwar Singh (2012) 1 year and 3 months
PS Gill (2013) 5 months
NS Dhillon (2013) 3 months
PS Gill (2014) 40 days
Sanjeev Kalra (2014) 2 months
RK Jaiswal (2014) 23 days
Pramod Ban (2014) 1 year, 45 days
PS Umranangal (2015) 7 months, 23 days
Jatinder Aulakh (2016) 11 months, 17 days
Kunwar Vijay Pratap Singh (2017) 38 days
RN Dhoke (2017) 11 months, 14 days
Dr Sukhchain Singh Gill (2018) 1 year, 5 months
Top Stories
Cities