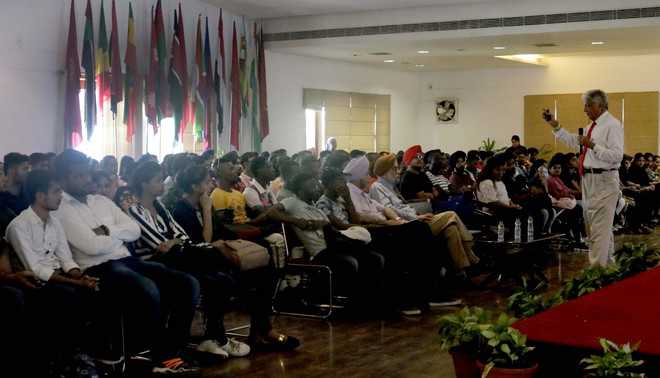 Tribune News Service
Ludhiana, August 13
India ranks third in the world when it comes to purchasing power parity and has one of the best defence forces in the world, said Deepak Vohra, Indian diplomat, while addressing students at the PCTE Group of Institutes on Monday. Vohra has served as secretary in the Ministry of External Affairs, India, and had hosted the first Indian talk show on Doordarshan, called "Good Morning India". He was also the Ambassador of India to Poland, Lithuania, Armenia and Sudan. He is at present a special adviser to Lesotho and Guinea Bissau.
Vohra addressed students on world economy, the issue of Kashmir, elections and defence. Sharing a brief history, he said in 1800, the Asian continent represented 80 per cent of the world economy and that India was the world's youngest country with two-thirds of its population falling under the working-age group between 15 and 64 years. Commenting on developed nations, Vohra said 15 per cent countries of the world are ruling it while the rest 85 per cent were scared of losing their lifestyle.
He also stated during his session that in 1967, the then Prime Minister of India, Indira Gandhi, went to the US to seek help with food because India had suffered a bad famine and drought. On her arrival, the US media reported that the Indian leader had come to beg for food. Following this incident, Gandhi pledged that India would never ask help again when it came to food. Today, India was one of the largest producers of food, for which the credit largely goes to Punjab, which was instrumental in bringing about the Green Revolution, he added. The former ambassador said: "We are not Indians because we live in India, but we are Indians because India lives in us."
KNS Kang, director general, PCTE Group of Institutes, said students should interact more with well-informed and widely traveled speakers in order to keep them abreast with the world. Crisis like that of Kashmir required students and citizens at large to be aware and updated, he added.
About Vohra
Deepak Vohra has served as secretary in the Ministry of External Affairs, India
He had hosted the first Indian talk show on Doordarshan, Good Morning India
He was also the Ambassador of India to Poland, Lithuania, Armenia and Sudan
He is at present serving as a special adviser to Lesotho and Guinea Bissau
Issues Discussed
Vohra spoke on world economy, elections, defence, Kashmir issue
He mentioned India is the world's youngest country with two-thirds of its population falling under the working-age group between 15 and 64 years
Commenting on developed nations, he said 15 per cent countries are ruling the world while the rest 85 per cent were scared of losing their lifestyle