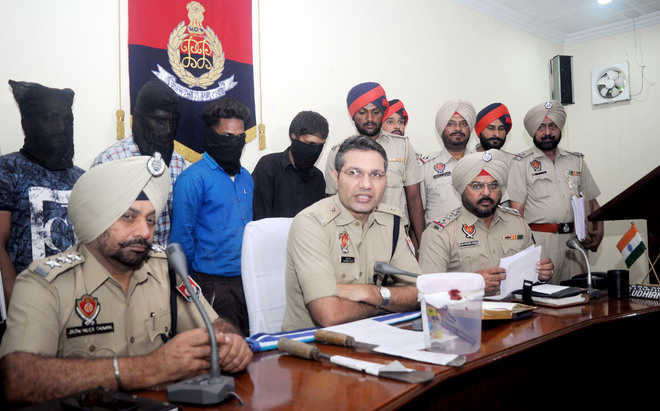 Tribune News Service
Ludhiana, September 18
The Shimlapuri police claimed to have busted a gang of robbers being run by kabaddi players with the arrest of four of its members. Three of their accomplices are at large.
The kabaddi players had formed the gang just three months ago with a clear motive to become rich in a short span of time. They had committed three major robberies at Daba and Shimlapuri at gunpoint.
The accused have been identified as Kulwinder Singh, alias Vicky (30), of Shehzad village; Lalit Kumar, alias Lalli (22), of Lohara village; Davinder Singh, alias Babu (22), of Lohara Colony; and Surjit Singh, alias Somi (33), of Basant Nagar. Three of their accomplices, namely Jagjit Singh, alias Jaggu (24), of Shehzad village, Jaspreet Singh (26), also of Shehzad village; and Bablu Chauhan (20) of Gurpal Nagar, are at large.
The police have recovered one .32-bore revolver with five cartridges, two sharp weapons and two motorcycles.
Meanwhile, ADCP Surendra Lamba, ACP Jaswinder Singh Chahal and Shimlapuri SHO Davinder Singh conducted a press conference. Lamba said three of the accused were local-level kabaddi players. As they were from poor families, they formed a gang of robbers to become rich. They also convinced three youths to join the gang.
Kingpin a history-sheeter
The SHO said Kulwinder was the kingpin of the gang who was already facing an attempt-to-murder case and another case for sheltering criminals at the Jodhan police station. About one year ago when his brother, Gurinder, committed suicide, he started using his licensed .32-bore revolver in robberies.
Kulwinder had recently bought a new car and Surjit had got a bike. When they failed to pay the loan instalments, they ventured into the crime world to meet their financial liabilities.
Top News
The nasal vaccine—BBV154 -- had received DCGI approval in No...
Egypt's President Abdel Fattah al-Sisi is the chief guest at...
Announcement was made by Adviser to the UT Administrator Dha...
It reflects the 'myopic' mindset of those in power at the Ce...
In the last year, more than 70,000 people globally have been...