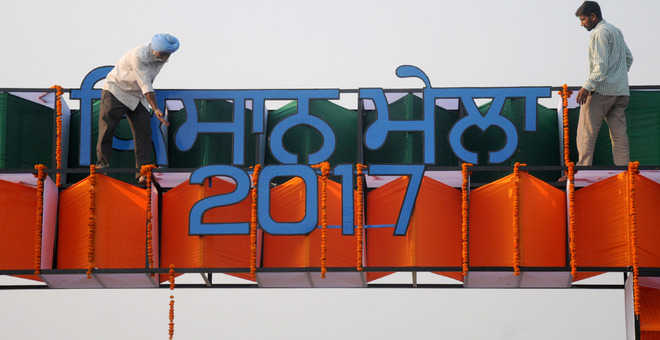 Tribune News Service
Ludhiana, September 21
Punjab Agricultural University (PAU) is all set to hold its two-day 'Kisan Mela' on September 22 and 23.
For the first time in 50 years, the theme of the mela focuses on socio-economic aspect of farmer suicides. "The theme of the mela is curtailing the expenditure on social functions, including weddings. Splurging on weddings and other social programmes is part of the death trap. Many times farmers take loans to buy tractors and later sell these tractors to arrange money for the wedding of their wards," said Dr Sarabjeet Singh, PAU professor and principal investigator of Project 'Utshah'.
Referring to the project name 'Utshah', Dr Singh further said: "When we talk of positive transformation, 'hope' automatically follows. People think of committing suicide when hope shrivels. Hope is a game changer that brings the people out of depressive thoughts."
On the first day of the mela, various activities will be organised to reach out to farmers. These include surveys on farmers' problems and a signature campaign on curtailing the expenditure on social functions. Besides, a 72-page book, motivating farmers to use restraint while spending money on weddings, will be released.
Around 8,000 leaflets on farmers' issues will be distributed. Students of the College of Home Science will enact a street play on the theme 'Discourage expenses on marriage, empower your daughters through education'.
Stalls will be put up by different departments of the PAU. Farmers can interact and discuss their farm issues with experts and seek technical guidance and solutions .
Newly developed varieties
The Department of Plant Breeding and Genetics will inform about newly developed varieties namely Unnat PBW 343 (PBW 723), Unnat PBW 550 (PBW 761) and PBW 1 Zn of wheat; TMB 37 of summer mungbean; Giriraj of Indian mustard; BL 43 of berseem and OL 11 of oats.
Weed control in rice, maize
The Departments of Agronomy and Soil Science will educate about direct seeded basmati rice and weed control in rice, maize, mechanical transplanting of rice, use of PAU Leaf Colour Chart technology and use of fertilisers on soil test basis
Improved varieties of fruit crops
The Departments of Fruit Science and Vegetable Science will provide information regarding improved varieties of fruit crops PAU Kinnow -1, daisy mandarin and other citrus fruits; PAU fruit fly traps; and several varieties of vegetables .
Pest management
The Departments of Entomology and Plant Pathology will give field demonstrations on insect pest management in kharif crops, vegetables and control of whitefly in cotton. The department will also educate about production of disease free seed of basmati and management of sheath blight in paddy.
Mushroom cultivation
The Department of Microbiology will explain mushroom cultivation technology and use of bio-fertilisers for various crops. Department of Forestry and Natural Resources will inform about recommended wheat varieties and sowing time under poplar plantations.
Portable maize dryer
The Departments of Processing and Food Engineering, and Food Science and Technology will apprise farmers of portable maize dryer and its processing techniques.
Top News
Development in Himachal possible as people voted BJP to powe...
Addressing a rally in Baramulla, Shah asks whether terrorism...
The Ministry of Defence spokesperson from Tezpur says the mi...
45-50 people, including women and children, were on the bus
Reason for the crime not yet known