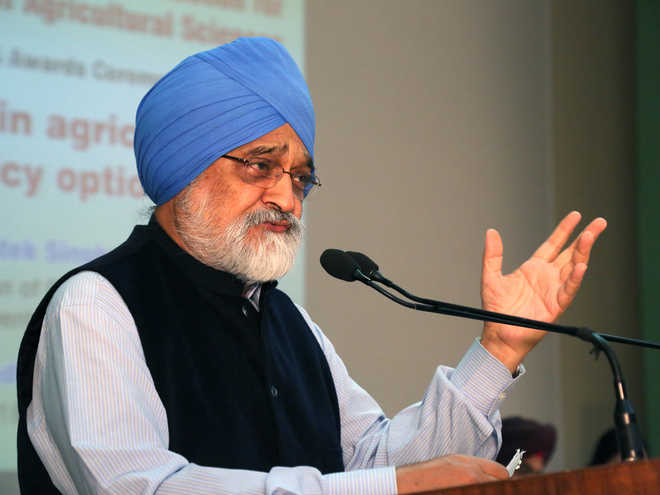 Tribune News Service
Ludhiana, March 9
"We need to consider quantity rationing of water usage by stopping free electricity and curb the subsidy on fertiliser over five years," said Dr Montek Singh Ahluwalia, eminent economist and former Deputy Chairman of Planning Commission while delivering his talk on "Challenges in Agriculture: Some Policy Options" at the Punjab Agricultural University (PAU) today.
Dr Ahluwalia, emphasised on the need to have an educated and informed electorate so that government leaders can be held accountable for relevant targets. He also pointed the absence of a risk mitigating system in agriculture that is one of the chief reasons of farm distress.
As many as 14 students and scientists of the PAU were awarded the GS Khush travel grant for participation in conferences in India and abroad, while another 38 from the PAU and 14 from GADVASU were bestowed with the GS Khush Merit Scholarship at the annual award ceremony of the Gurdev Singh Khush Foundation for Advancement of Agricultural Sciences.
While stressing on the need for pro-farmer policies Dr Ahluwalia recalled the period from 2004 to 2011 when the country reported increase in farm income and biggest decline in poverty. "The factors responsible were better land productivity, supportive prices for farmers, boom in construction investment and increase in farm product prices", he elaborated.
Dr Ahluwalia further stressed on the need to diversify from cereals to horticultural crops and setting of transformational targets to capture these changes over a period of ten years.
"Diversification to maize can be an important change for Punjab as also dairy if the CM's objective of getting out of paddy is to be achieved", he observed. While suggesting the development of integrated value chains as a part of the 'plough to plate' approach, Dr Ahluwalia appealed for conviction on the part of the policy makers towards eliminating policy constraints.