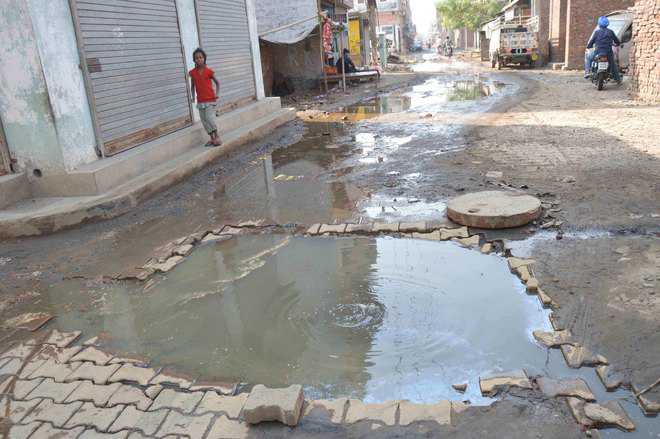 Harshraj Singh
Tribune News Service
Ludhiana, November 8
Uncovered or broken sewer manholes in various parts of Ward no. 28 are an open invitation to fatal mishaps as the Municipal Corporation authorities have failed to pay any attention to them for a long time now. The manhole covers are either broken or missing at several locations in the ward, causing inconvenience to the residents.
The residents claimed to have raised the matter about the dilapidated condition of the manholes before the officials but to no avail. A team of the Health Department also had noticed the uncovered manholes during a survey to check dengue cases in Durga Colony and other nearby areas of Dhandari Khurd recently.
A ward resident, Kamleshwar Kumar, said: "Sewers are overflowing in various areas. The civic body has not taken any measures to get the manholes covered properly. The covers are either missing or broken at various locations, causing troubles to the commuters. The MC should immediately take required measures to avoid any mishap."
"It is difficult to judge any uncovered or broken manhole whenever the streets are flooded due to overflowing sewers. The sewer manholes covers are broken at concrete roads along railway tracks at Dhandari Khurd, Durga Colony road, Dashmesh Market road and other areas. It seems that the size of manholes is big but covers are small. Commuters, riding two-wheelers, often meet with accidents due to broken manhole covers. People don't allow their children to walk in the streets where manhole covers are missing," Sukhwinder Singh, chairman, Guru Ravidas Youth Sports and Welfare Club, Dhandari Khur, said.
A group of residents at Durga Colony said: "We appeal to the Local Bodies Minister to direct the MC authorities to pay attention towards the issues in our area. The problem of overflowing sewers and poor condition of the manholes should be resolved at the earliest. A survey to check all the manholes should be carried out in the ward and take required measures to ensure safety of people at the earliest."
Superintending Engineer Rajinder Singh could not be contacted for comments.