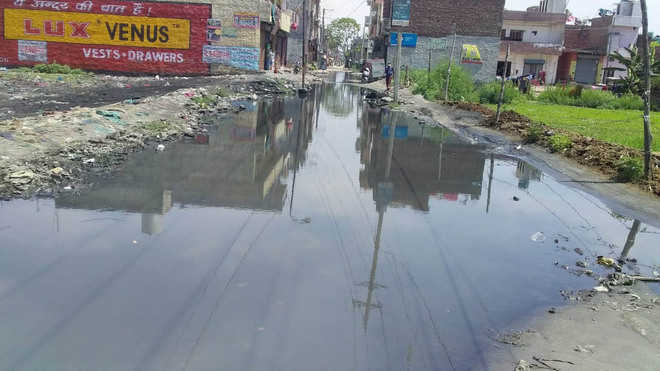 Harshraj Singh
Tribune News Service
Ludhiana, April 20
Overflowing sewers is a major poll issue for residents in many wards this time. It has also remained a major issue during the MC elections and the Assembly elections. A few candidates have raised the issue of choked sewers during their election campaigns.
Questions are being raised over the role of the government and the authorities concerned for not taking appropriate measures to fix the problem despite repeated complaints and protests by the affected residents.
The residents of Dhandari Khurd in Ward No. 28 recently announced the boycott of elections. A group of youth has started a campaign to boycott the upcoming elections on the same issue.
The conditions are almost similar in other parts, including Prem Nagar and Durga Puri in Ward 28. Though the Dhandari Khurd area is under the MC jurisdiction, it falls under the Sahnewal Assembly constituency and the Fatehgarh Sahib parliamentary constituency.
Besides, the overflowing sewers are a major concern in the areas of Bahadur Ke Road, Rahon Road, Tajpur Road, Sherpur, Giaspura, Jeevan Nagar and Focal Point. Whenever it rains heavily, sewers get choked even in posh areas. The storm sewerage system is unavailable in a majority of areas.
Sukhwinder Singh of Guru Ravidas Youth Sports and Welfare Club, Dhandari Khurd, said: "Swachhata has always been ignored in our area. We have also a right to live under clean environment. We staged protests and met MC officials, but to no avail. Development has taken a back seat in our area. Even our streets have been flooded with stinking sewage. Why should we vote when our issues are not addressed?"
Unauthorised 'vehras'
Officials of the MC generally blame "vehra" dwellers for choked sewers in the city. It is a fact that there are a large number of "vehras" in the affected areas. "Mostly, 'vehras' comprise of around 50-100 rooms, but they lack a sufficient number of toilets. At many places, there are only three or four toilets for around 200-300 persons residing in the same 'vehra'. Besides, some 'vehras' comprise of more than 100 rooms. Though lakhs of people live in Dhandari, the voter number is very less. Our area is being ignored," said a resident of Dhandari.
According to sources in the MC, a majority of 'vehras' were constructed in violation of building bylaws. They said construction was still under way at many of these 'vehras' without any check.
Govt fails to formulate any plan
A labourer at Sherpur, Anil Kumar, said: "I can't afford better accommodation in a well-developed area due to my low monthly income. I work on a daily wage basis. Sometimes, I don't get work for the entire day. I, along with the four members of my family, reside in one of the rooms at a 'vehra' by paying Rs 1,500 per month. We live under insanitary conditions as we are helpless."
A group of labourers said the government must make a provision of quarters with toilets on a rental basis for economically weaker sections so that they can lead life in a better way. In the absence of good accommodation at affordable rent, these labourers are forced to stay in unauthorised 'vehras' where they are always at the risk of catching diseases.
Dyeing units
A few leaders have blamed several dyeing units for misusing the MC sewerage. Earlier, Congress MLA Sanjay Talwar had raised the issue of overflowing sewers in many wards of the Ludhiana East constituency. Talwar had also blamed the dyeing units for dumping their untreated water in the MC sewer lines. Following his complaint, a few connections were also snapped. The SAD MLA from Sahnewal, Sharanjeet Singh Dhillon, had blamed dyeing units for illegally using the MC sewerage.
Unauthorised connections
The civic body has no exact detail about the actual number of unauthorised sewer connections. Sources said many areas, which are located outside the MC limits, had their sewer lines connected to the civic body sewerage.
Lack of machinery
The MC has been planning to purchase machinery to clean the choked sewers for a long time. It had hired private super suction machines to clear choked sewers in a few areas. An official said: "A detailed project report was being prepared to purchase jetting machines and equipment for desilting sewer lines. These machines will help to solve the problem of choked sewers."
"In the absence of machines, sewer men are generally forced to enter manholes without safety gear. A few of them have lost their lives in manhole chambers while cleaning sewers," said a member of an association that works for the sewer men of the civic body.
Officialspeak
Superintending Engineer Rajinder Singh said: "We have deployed staff for solving the problem at Dhandari Khurd. Work is also under way in other areas. The major cause of choked sewers is "vehras" located in the affected areas."
"The sewer system was designed with proper planning in these areas. There is no sufficient number of toilets at most "vehras". Even after using toilets, the dwellers don't flush properly. The dwellers also dump their solid waste and polythene into sewers due to which these get choked. Actually, the sewerage system is being misused. However, our workers are working with dedication to get the sewers cleared."