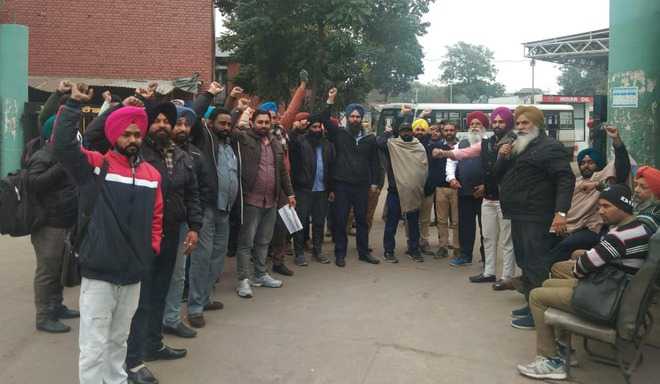 Tribune News Service
Ludhiana, January 30
Members of the Punjab Roadways PunBus Contract Workers Union organised a gate rally at the Ludhiana bus stand in support of their long-pending demands. The employees raised slogans against the state government.
While addressing the protestors, Punjab Roadways PunBus Contract Workers Union state vice-president Satnam Singh said the contractual employees were being physically and mentally exploited by the state government and management of Punjab Roadways.
The main demands of Punjab Roadways PunBus Contract Workers Union include regularisation of jobs of drivers and conductors hired under the contract system, allotment of equal timings to the buses of Punjab Roadways, implementation of 'equal work equal pay' verdict of the Supreme Court of India and increasing salaries of contract workers among others.
The union members declared to hold three-day strike from February 4 to 6 in the state. During the strike, all buses of the Punjab Roadways would remain off road.
"The bus stands in all cities will remain shut on February 4 and February 6. Besides, we will hold protest rallies in Patiala, Dinanagar and Chandigarh on February 5," said Satnam Singh.
The Punjab Roadways PunBus Contract Workers Union Ludhiana depot president also addressed the protesting workers.
Top News
Shah appeals for surrender of arms, says dialogue only way f...
PM flags off cargo train from Bihar to Nepal
Mahapanchayat in Kurukshetra today to chalk out future cours...
2nd science topic to be removed by NCERT after Darwin's theo...