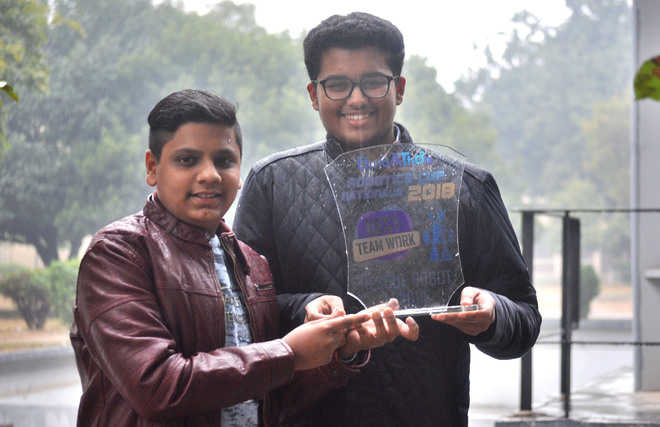 Tribune News Service
Ludhiana, January 23
Using robotics for environment friendly purpose is what this duo aspire for. Meet Arsh Batish and Dhruv Jain, students of DAV Public School, who recently stood first under the Best Teamwork category during Buildthon Robotics Cup held in Goa on January 18-19.
Both students of Class IX developed interest in robotics, when their school started taking robotics class once a week during activity club.
"Future is the age of technology and robots are going to be an integral part of our lives like any other electronic gadgets. We both want to pursue our career in mechatronics and robotics. This is the future and holds large scope," said Arsh Batish.
Unfolding their future plans, they said they want to use robotics to address environmental issues.
"Producing non-polluting cars, use of solar energy and planting more trees with the help of robotics is our aim. We are marching ahead but amid this, forgetting to take care of our environment. We want to use technology to address environmental issues," the duo said.
"It has been two years since we are studying robotics. Once a week Neo Robos Brain Box conducts classes in our school and those students who are really keen go for daily classes at the institute. Dhruv and me also go every day," said Arsh.
Telling about their recent win at Goa, Dhruv said their challenge at the contest was 'Roborescuer'. "The miniature robot we made had to distinguish between black and white surface. By overcoming obstacles, it ran on the black line," he said.
The duo came fourth in the Robo Cup in 2015 and during the World Robot Olympiad in 2017 and recently state-level win under 'Best Teamwork' in Buildthon Robotics Cup.
Top News
External Affairs Minister asks UN member states not to allow...
CM says instead of SYL canal, the project should be now be c...
Khattar points out that surplus water from rivers such as Ra...
Challenges the levy of 28 per cent GST retrospectively on be...
'Today, I am quiet because Attorney General has sought a ver...